Chess Regionals and State, Only pawns to a bigger game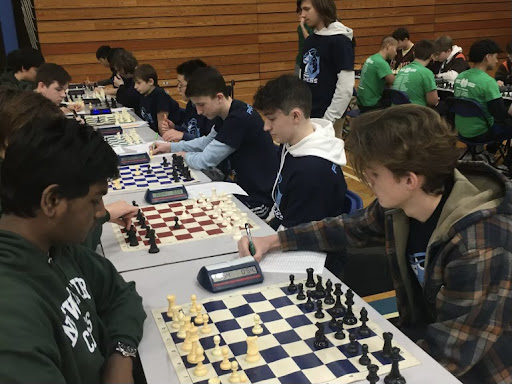 Senior Jacob Gavin has loved chess for as long as he can remember, whether it's playing against his dad, online, or with friends. His first exposure to chess was in a chess club during elementary school, where he was the only person able to beat the club sponsor. Despite loving the game Jacob never really played competitively, until his junior year of high school for Prospect's chess team.
Once he joined the team, he hit the ground running, starting as a 4th board. He then quickly moved up the ranks and soon made State his first year on the team. But this year, as a 1st board, the road to State was rocky. Sectionals and qualification was an absolute disaster. But to understand what went wrong, you must first understand how team chess works.
Every MSL chess team puts together its best eight best players, the 1st board is the best player, the 2nd board has the number two, and so on. A win on 1st board is worth 12 points, on 2nd board, a win is worth 11 points, and so forth. If the contestants draw, they split the points. Like most sports, the team with the most points in the end wins. 
Now knowing how more significant the higher boards are, we can see how Prospect wasn't set up well going into sectionals.
"We didn't have our 2nd and 5th board players, so we were going off of our lower boards," Gavin said. "Everybody had to move up [in the board order], and everybody was playing above their strength. So I was nervous going in."
Prospect lost their first two games, making them the lowest-seeded team going into the third matchup, in which Gavin claims that the team didn't know that if they did not win this next game then they would not have had the opportunity to go to state this year. 
 Despite the disadvantage, Prospect pulled through, winning their 3rd game. However, Prospect would go on to lose their 4th, which isn't as bad as it seems because it would give them enough of what is called, tie-break points.
A broken-down definition of tie-break points is basically the cumulative points you get in a specific round. The points are weighted heavier against losses to a team who ended up doing good and vice versa if the opposing team was weaker. The points are then added up and compared to a team who had the same record as you and whoever has more of the tiebreak points breaks the tie; hence the name.
Due to tiebreak points, Prospect was placed 18th out of 23 teams, just barely making it to the State meet. This stroke of luck was colossal.
Preparing for State was pretty simple; Practice, practice, and more practice. Jacob, along with other members of the team, spent hours learning new openings, playing online, and playing over the board with other teammates. Going to Peoria, Jacob felt completely different from the way he felt going into sectionals. 
"Being 1st board, there are a lot of expectations that you do well. So it was just fulfilling to make State," Gavin said. "I felt pretty much accomplished because that was my goal. We didn't have the best team this year. So, I was just happy we made it [to state]."
During the State meet in Peoria, Jacob missed his first game due to waking up sick. After the missed first game, he went on to win two, lose two, then draw two which he didn't feel ashamed of. 
Despite Jacob losing two of these games the team went on to win these two. This is because of the main difference between team chess and individual chess. In individual chess, what matters is if you, yourself, win. But in team chess what really matters is that your point total is over 34.5. While the first board is important, it's just 12 points out of the 34.5 that the team needs to win, meaning that it is a group effort to get the win. 
There's significantly a lot about competing on a team that goes beyond just playing the game, chess team coach Matt Love has shown his players how to play as a team, even in a sport that feels individual. Because of this help and the team's efforts, they wound up placing 92nd at State out of 128 schools.
Throughout his magnificent run, Gavin contemplated what he would have done differently with his experience with the sport, which is not waiting so long to join the team. He explains how during his freshman year, other commitments got in his way of joining, and during his Sophomore year, COVID prevented him from joining the team too. But out of all of these reasons, the chess stereotype of the members being nerdy, too intellectual, and socially awkward took the cake as the main reason not to join the team and ultimately ended up having him miss a plethora of amazing experiences with the team. 
"I was like oh I don't want people to think of me like that," Gavin said. "It's a really stupid high school [stereotype] and it's really not true."
Even with this said, the popularity of Chess.com is currently flooding the school. Through the use of the website, Chess became more widespread among diverse interest groups. 
"All the teachers have commented that a lot of our kids are playing chess in class these days. It seems to be really popular," Love said.
The chess team has seen some of this surge with its increased attendance when they meet after school every Tuesday in room 203. With that said, Jacob urges this new wave of chess players to not make the same mistake he did by sitting in his thoughts and not joining the team earlier on. 
"Just go to the chess club. You can be at any skill level [to] join. I'd recommend going once if you even have the thought, if you don't like it you don't have to come again. But odds are if you like chess, you'll have a lot of fun, " Gavin said.