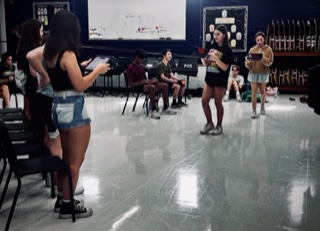 With auditions and casting completed, rehearsals are underway for this year's fall musical, titled "The 25th Annual Putnam County Spelling Bee". Shows are on Wednesday, October 4, Thursday, October 5th, and Saturday, October 7th. Anyone and everyone is welcome to attend.
As the title suggests, the musical is set in an elementary school in the fictional Putnam County, in which students between the ages of 8 and 12 compete for a spot in the national spelling bee. The bee is hosted by the exuberant and motherly Rona, played by senior Anna Parisi. In the story, Rona won a previous Putnam County Spelling Bee herself when she was a child. 
As the students try (and fail) to spell various words and sing their individual songs, the audience learns about their personality quirks and family lives in a hilarious, spontaneous, high-energy show that blends scripted lines with improvisation.       
According to Fine Arts Coordinator and Drama Instructor Jeremy Morton, the cast members will not be the only ones involved in the spelling and singing. When audience members arrive at the show, they can register for a chance to perform onstage with the cast. Of these people, four audience members will be randomly selected to be active participants in the musical.
"That's part of the humor…watching your friend, your teacher, your friend's mom, up on stage…you fall in love with them on stage and you want them to win and you're…rooting for people all of a sudden," Morton said. 
The production is also unique because it involves not one, but three separate casts, meaning the same set of characters are played by three different sets of actors. Each cast will perform one to two of the musical's five total shows.
Morton has never produced a show involving three casts before. He was pleasantly surprised by the unusually large number of very talented performers that were casted, so he and the other members of the theater production team decided to create three casts to make the show open to more actors.
"I think it's really admirable that our director has decided to triple cast this production because everyone gets an opportunity to shine and show what they can do," Parisi said. 
Morton says that multiple casts will also allow for more creative freedom; each cast can interpret the musical's characters however they wish and inject their own personalities into them, making for an even more entertaining experience for audiences and giving the show heart and honesty. 
Senior Emily Caravello plays Marcie, a self-conscious, fierce perfectionist who undergoes a major character transformation during the show, eventually realizing that she does not need to be perfect and being herself is most important.
For Caravello, the role of Marcie will be an exciting challenge. In past Prospect musicals, she has typically performed in more dramatic roles and has less experience with comedic roles. However, Caravello says she sees a little bit of Marcie's personality within herself.
 "I often try to be really perfect and put together, and I often find myself very focused on other people's opinions and how I'm portrayed to other people, so I think that I can probably learn a lot from Marcie's journey as well," Caravello said.
Like Caravello, Parisi was influenced by her own personality and mannerisms when deciding to perform as Rona. Her confident stage presence combined with her vocal range made Rona a fitting character for Parisi. 
Similarly to Morton, Parisi is also thrilled about the audience involvement that Spelling Bee provides, and she is optimistic that the show will be a hilarious, immersive, and thoroughly entertaining experience for all audiences.
"I think [the musical is] a really good escape…I hope that when people come [to the musical], they forget their stresses, go to the small, little town [of Putnam County], and have a good time," Morton said.