Football hopes to achieve success by coming together as "One"
By Erin McGovern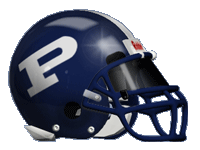 Assistant Editor-and-Chief
School has officially started again, and you know what that means– it's football season.
This Friday, the Knights will start their season off with an away game at Glenbrook South at 7:30pm.
After their respectable finish in round two of the playoffs last year, head varsity coach Mike Sebestyen and the Knights are ready for a fresh start with plenty of new faces.
The end of last year's season brought a drastic change to the lineup after Prospect lost 8 starters who graduated and went on to play college ball, leaving a legacy but also a void in the well-oiled machine that fought it's way into the playoffs last year.
While the Knights have spent most of their practices over the summer learning to mesh as a team, Sebestyen is excited for the growth that lies ahead, even if the road may start off rough.
"We have some maturing and growing to do," he said. "[Our players] are a nice group of kids that undoubtedly work hard, but we still need to develop that team element and it very well might take some time, but that's okay."
According to Sebestyen, the team will be heavily leaning on its returning players to step up and meet the challenge of unifying a talented group of individuals. From last year's varsity lineup, seniors Luis Leguer, Andrew Inserra and Jackson Wrede will be the backbone of this new team by stepping up to new positions and acclimating the new members to the Prospect play book in order to develop a flow that will hopefully carry the 2014 team to the postseason.
One of the newest lineup additions is sophomore Matt Drew, who will start as quarterback and attempt to fill the big shoes left by last season's all-state quarterback Devin O'Hara. While this talented young player will inevitably face growing pains at the beginning of the season as he rises to the responsibilities he faces, the knights' veteran players have confidence in the leader he will become with the help of his teammates.
"[Drew] is improving rapidly and we're excited to see him play," Leguer said, "but to help him out [the returning players] have to become the core of the team at any moment and any position to get the job done."
As far as Glenbrook South is concerned, Sebestyen believes this game will be the learning experience that the Knights need to to target areas in need of improvement.
According to Sebestyen, Glenbrook South's biggest threat will be their strong defense and offense that tends to heavily utilize their agile quarterback and outside receiver to put points on the board.
"This game is going to show us exactly what kind of group we have," Sebestyen said. "We're going to come out, and if we're not prepared it's going to show real fast."
Leguer agrees that the team element is what is going to make or break this first game.
"We have to trust each other on the field…and have the strength to battle and fight for 48 minutes because that's what it takes to get a win," he said.
Overall, the main thing the Knights are hoping for from the outcome of Friday's game is a team unity that can only be accomplished in the pressured situation of coming together under the clock. While they believe the game will indisputably be difficult, it is the challenge that will define the new team and their goals for the conference season.
"You don't want to play a bad team at the beginning, because then you don't know anything more about the team than you did before," Sebestyen said. "If it were all perfect and easy, I would be upset because I would rather have work to do."