"The Newsroom" season finale mends relationships, inspires determination
By Kelly Schoessling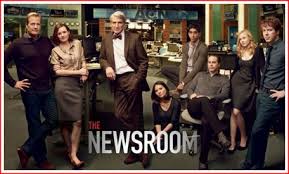 Managing Editor
Atlantic Cable Network (ACN) anchor Will Mcavoy closes his eyes for one last moment before he turns to his colleague, Elliot Hirsch, and asks him to sit in his chair while the station is still waiting to come back from commercial break.
When Hirsch asks why, Mcavoy gets up from his chair and informs him that he's going to be fired by the end of the night, and he's hoping the audience will begin looking at Hirsch as their lead anchor.
Meanwhile, executive producer Mackenzie Mchale watches Mcavoy with a smile before also telling her colleagues to prepare for return from commercial break while she also attempts to end her career at ACN.
Together, Mcavoy and Mchale walk away with a bittersweet smile as they look back at their work one last time before they leave.
This was only one of the extremely intense scenes from "The Newsrooms'" second season finale, which recently aired on HBO.
Although the show's first season mostly revolved around real events that occurred within the news, this season has focused much more on fictional storylines.
Within the beginning of the second season, ACN has a source confess to the station that the American military was involved in a classified event entitled, "Operation Genova." The source explains that the operation consisted of American soldiers using sarin gas against civilians.
Though at first the executive and senior producers all believe the story is outrageous and in no way true, throughout the season various other facts and sources surface to support the story.
It isn't until after Mcavoy has already reported the event live that the station realizes the story has been fabricated.
Therefore, the opening of the season finale began with one burning question. What now?
ACN has officially lost all of its credibility as well as integrity; the staff within the newsroom is extremely weary and drained and the station will be sued for millions of dollars unless Mcavoy, Mchale and their boss, Charlie Skinner, is fired.
Although the beginning of the episode began with a darker mood, the finale in it's entirety was extremely hopeful.
For example, when the show first began, Mcavoy was portrayed as a bitter and lonely human being, whose only companion was his audience. This characteristic is maintained throughout the seasons as Mcavoy desperately attempts to please and impress his viewers time after time.
It's only after the end of the show's second season that we see him step away from his anchor chair and mend the wounded relationships within his personal life in order to finally become happy.
Although the finale does not specifically answer exactly how mistakes are going to be fixed, it does provide a potent urgency that all loose ends will be addressed eventually.
Overall, "The Newsroom's" second season finale left with the same recurring message it's been sending since its first episode. In order to fix in a situation, you have to work at it. You have to be as persistent and as accurate as possible, and then maybe…just maybe, you can do the inconceivable.
My top five favoite moments from "The Newsroom"
*warning: clips contain foul language
1. "Opening Scene"
This scene is the first to ever air on "The Newsroom." Will Mcavoy has been asked why America is the greatest country in the world, however his answer is not what people expect. The dialogue and characteristic of this scene set the tone for the entire show.
http://www.youtube.com/watch?v=_6RzKi3IBA8
2. "Accuracy vs. Timing"
This scene begins directly after the staff has learned breaking news that congresswoman Gabrielle Giffords had been shot. The newsroom now has to face a common mistake made by real news organizations today, what is more important, accuracy or timing?
http://www.youtube.com/watch?v=qkjdOEj6xGY
3.  "Get it back!"
Here Will Mcavoy, Mackenzie Mchale, and Charlie Skin try to reason with their boss to accept their resignations in order to maintain the integrity at ACN, however the task completely turns on them.
http://www.youtube.com/watch?v=7i4zNm4KqYg
4. "I guess it's just us now"
This scene takes place near the end of an episode where Will Mcavoy has been waiting to hear how his alcoholic father is recovery from a major heart attack. The solemn vulnerability of this scene is extremely rare for Mcavoy's character, yet extremely powerful.
http://www.youtube.com/watch?v=XVGYRq1T5Yc
5. "Real journalism"
This scene is Will Mcavoy's attempt to stop a persistent tabloid writer to stop printing articles hurting the careers of his colleagues. However, his intentions morph from pleading to preaching about what real journalism entails.
http://www.youtube.com/watch?v=GB2A3wybrpA