Learning the Knight's Way
By Abby Sunu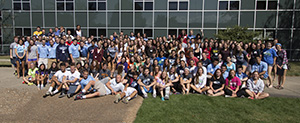 In-Depth Editor
About 180 juniors and seniors from Prospect High School met at Forest View Education Center on Sep. 12, for Knight's Way training day.
There the students heard from counselor Dr. Jay Kyp-Johnson about the Knights' Way importance, expectations and procedures it takes to be a Knightsway leader.
"The purpose of Knights' Way is to try and make this more of a consistent culture," Kyp-Johnson said."This gives us all a way of having something in common
at the end of the year we've all had the opportunity to make a blanket for a cancer patient, we've all had the opportunity to help Kids Caring for Kids and we've all had the chance to see other high school students doing something special and maybe see ourselves in that spot someday."
As Kyp-Johnson mentioned, for this upcoming year several service projects are planned such as, the blanket-making for cancer patients, "Kids caring for Kids" and "The Lakota Spirit Project".
The Lakota Spirit project is special because former student, Daniel Wessel who is now a student at Columbia College in Chicago, started this project and asked Knights' Way to get involved.
The goal of this project is to help and enhance the living conditions of the Pine Ridge Indian Reservation in South Dakota. According to http://www.re-member.org/ the unemployment rate in 2007 was 80-90%, the diabetes rate was more than eight times the United States rate, alcohol rate was at least 80%, as well as suicide rates being more than double the national rate. As this reservation struggles and is considered "third world" this project's job is to help and support these people through donations.
"The Native Americans have really gotten a rough deal and they are a part of our population that has extreme amount of poverty and very little resources in terms of what they can do to change that." Kyp-Johnson said. "So we're trying to do something to give them some hope, and that's the biggest thing you can do for anybody"
By doing these projects and learning these valuable lessons, not only will the leaders and older students benefit, but the younger and future leaders will too.
"[One of the main goals is] younger students to feel like they are apart of the high school and see the benefits of really being involved in high school" Kyp-Johnson said.