District continues Career Nights
By Ellen Siefke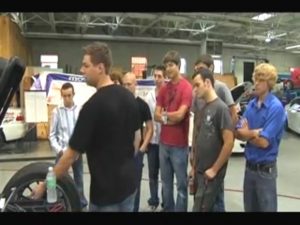 Copy Editor
District 214 will host its 10th annual Career Nights on Oct. 9  at Elk Grove, Oct. 22 at Buffalo Grove and Nov. 13 at Wheeling. According to Career Advisor Diane Boldt, the events provide an opportunity for students to get an insight into different careers through listening and talking to professionals in various fields.
Each night will begin at 6:30 p.m. with registration at the site of the event, so there is no need for prior enrollment. Students and other guests simply need to sign up for the sessions they wish to attend when they arrive.
Registration will be followed by a short introduction and overview of the night, and then attendees will go to the first of two breakout session. Each session is 40 minutes long and features a speaker from a specific field. After the first session, there will be a short break followed by the second and final breakout session, and a period of more talking with the speakers, as well as refreshments, will close the evening.
The sessions typically involve the speakers talking about different aspects of their careers, such as their schedule and schooling, and helping students to better understand their potential futures.
Each session focuses specifically on one job, such as a social worker or physician. All the guest speakers were obtained through networking, according to Boldt. For example, some career advisors at Elk Grove might know a local author, so they will ask that person to come speak. If that person can't come, he/she might be able to direct the advisors toward another colleague who could do the job.
Also, the nights are divided up based on career clusters, which group careers based on similar interests skills. There are six major career clusters: art and communications, human services, health, natural resources, engineering/industrial technology and business/computers. Art and communications and human services will be the theme for the event on Oct. 9; health and natural resources on Oct. 22; and engineering/industrial technology and business/computers on Nov. 13.
Students are welcome to come alone, but their parents are encouraged to attend. In some cases, siblings could come, such as an eighth grader interested in engineering. The event is open to all grade levels, and one need not necessarily be decided on a career before attending.
"Even if you just had an idea of what you wanted to do, you can still come," Boldt said. "It allows for the students to get a peek into what they might be interested in and learn more about that field."
Boldt recommends the events to anyone, not just for the experience, but also for the possibilities they present for the future.
"What's great about the Career Nights is that there's a lot of opportunities to see different careers that are out there," Boldt said. "So it's a great opportunity to kind of just get an idea, and once you attend a career night, you can then take your interest to the next level and possibly go on a career trek."
Breakdown of the Evenings
6:30 p.m.: Registration Begins
6:50 p.m.: Evening Overview
7-7:40 p.m.: Presentation 1
7:40-7:50 p.m.: Break
7:50-8:30 p.m.: Presentation 2
8:30-9 p.m.: Networking & Refreshments