By Shreya Thakkar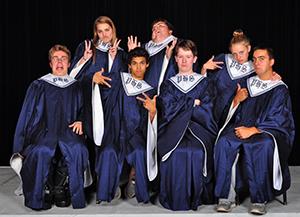 News Editor
Senior Mary Godby woke up to a text from Choir Teacher Jen Troiano saying that she got selected to be a part of the District Seven Choir, and it was a great way to start out her day on Friday, Oct. 4.
Along with Godby, seven other prospect students got selected for the District Seven Choir, including senior Josh Arshonsky, senior Brendan Chapman, senior Alex Yoo, senior Seamus Mangan, junior Jesse Sykes, junior Celeste Caldrone, and junior Marc Ford. According to senior Mary Godby, District 7 is a chorus comprised of many districts, and students have to audition to be chosen for the choir.
"It's kind of like a competition, but you audition into the choir," Godby said. "It's just like auditioning for a musical."
According to Troiano, over a 1000 students auditioned for the choir, but only around 250 were selected it. Prospect sent around 21 students to the auditions, according to Godby, and only seven were selected.
Students auditioning practiced all summer, and worked very hard to be prepared for auditions. According to Godby, the audition process is very subjective because certain judges like certain sounds. If you don't have that sound, certain judges could mark you lower, but a different judge could have marked you higher. So it all depends on what judges you have
The audition process is slightly complicated as well. Before the audition, students trying out are given three songs, and are expected to know all three, but they will only be asked to sing parts of two of the songs. According to Godby, there are four rooms that each student must audition in, but only two of the rooms are dedicated to singing the provided songs. Another room is used for auditioning scales and triads, a chord of three tones. The last room is used to cite reading, when judges give students four measures of major or minor chords and the student has to sing them right after seeing it for the first time.
According to Troiano she was very excited and proud of the students that were selected to be a part of District 7 choir.
"It's a big honor," Troiano said.  "They have to look professional when they go in and I'm absolutely [proud of them]."