Elective fair spreads awareness for CTE classes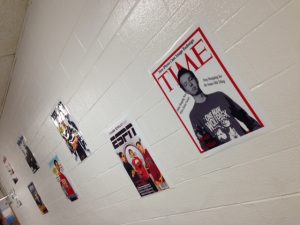 By Erin McGovern
Associate Editor-in-Chief
Instead of seeing the field house filled with runners, basketballs and soccer nets as one normally would, the gyms were vacant this past wednesday.
For all gym classes on November 27th, the hour was devoted to visiting the Career and Technical Education (CTE) department's electives fair.
According to CTE teacher Lance Burmeister, the department held the event to encourage students to weigh their options for electives and hopefully increase the enrollment for CTE classes, which he believes many students don't know enough about.
"Most other electives have students consistently taking them because they have other classes in that area, but it's not like that for us now that Information Processing is no longer required," Burmeister said.
Through the various activity stations in several different rooms, Burmeister and other CTE teachers hope to show students the significant impact these classes can have on their lives during and after high school.
In Burmeister's room, the students took a survey designed by his Sports Entertainment Marketing class to try and find out why students, for the most part, have not shown interest in business classes.
After completing the survey, Burmeister showed students a Stock Market game designed to show them the importance of investing and financial efficiency. Participants in the game with the highest scores were entered to win a Chipotle giftcard.
Just down the hall, CTE teacher Cathy Fortuna held a Bingo game for students, using "MONEY" instead of "BINGO" and quizzing participants on business facts, company slogans like "Just Do It"and well known entrepreneurs like Jack Dorsey of Twitter to put their knowledge to the test.
Next door to Fortuna, CTE teacher Paul Hennig showed students a video created by his entrepreneurship class that showed the new businesses developed by his students. Each one was voted on to determine which business the students believed would be the most successful.
To go along with the video, Hennig showed students a coffee shop game in which each player is the owner of a coffee shop. Challenges such as temperature changes and  price changes in the coffee beans or cups were periodically thrown at the students, testing their ability to adapt and conserve money.
Hennig would occasionally ask for the highest score among the students playing and compare it to other competitors to see who could finish the game with the most money.
"It's just a fun way to get kids' attention because we feel like they don't know what we have to offer," Hennig said. "We aren't forcing them to take any of these classes but it's just a reminder that if there's something here that interests them, we have it."