"The Maze Runner" trilogy brings great expectations for 2014 film adaptation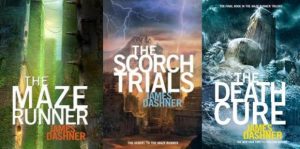 By  Kelly Schoessling
A teenage boy opens his eyes on the floor of rusty and dark cage below ground. For a moment he fears he's trapped but is relieved when the top of the box opens itself, bringing in blinding sunlight.
As the boy's eyes adjust, he sees the numerous other teenagers in tattered clothing, but his memory only holds one fact. His name is Thomas.
This opening scene from the trilogy of novels called, "The Maze Runner" by James Dashner is only the beginning to a mysterious, yet thrilling ride.
The action-packed trilogy encompasses the gritty and raw atmosphere of a post-apocalypse setting while also entwining the empathetic and intelligent minds of adolescents.
The reader is first introduced to the plot of the story when Thomas first wakes up in his cage and is introduced to several other teenage boys who inform him that they're trapped within the confines of a maze.
However the real conflict of the trilogy begins when the first ever girl is brought into the maze with a note attached reading, "She's the last one. Ever."
It's this twist that propels Thomas and the other teens trapped within the Maze to search for a way out of the confines and into the mysterious real world.
Although some readers may shy away from these books because they seems to be connected with the seemingly overdone "post-apocalyptic" wave of novels and films, the trilogy contains several individualizing details.
For example, while novels such as the "The Hunger Games" illustrate the concepts of humanity fighting against each other as a form of rebellion, "The Maze Runner" presents the concept of a sympathetic society working together for change. The novels also brings forth a refreshing mindset of teens thinking before shooting. It's these characteristics that makes the novels stand out amongst the rest of Armageddon-type stories.
While the first novel is admittedly slow as it builds up important facts and details, the following sequels, "The Scorch Trials" and "The Death Cure" prove through their precise and nail-biting plots that they are well worth the wait.
Although it is recommended to first read the novels, interested readers can also look forward to a film adaptation of, "The Maze Runner" this fall on Sept. 19. starring young actors such as Dylan O'Brien (Thomas), Kaya Scodelario (Theresa) and Will Poulter (Gally).
While the quality of the film adaptation is yet to be seen, the excitement and adventure of the novels cannot be denied because of its unique themes and adrenaline-filled conflicts.
Imdb page for film: http://www.imdb.com/title/tt1790864/