Relay for Life 'Conquer Cancer' event hopes to aware, entertain
By Spencer Ball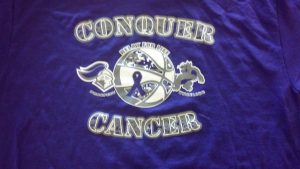 Online Executive Editor
According to cancer.org, the estimated cancer induced deaths for 2012 was 577,190. In 2013, this number increased by over 3,000, surmounting to 580,390 deaths from a variety of cancers. In conjunction with the American Cancer Society, both Mt. Prospect and Wheeling hope to quail further influxes of cancerous mortality through the Relay for Life program.
In order to aware and strike interest in both students and community members, the Prospect – Wheeling sophomore and varsity basketball games on Friday, Feb. 7, will prove to be the kickoff event for the now combined Prospect and Wheeling Relay for Life programs.
The event will take place from 5-8 p.m. in the Prospect field house. Both Wheeling and Prospect teams will be adorned with purple shoelaces, the color associated with cancer awareness.
However, the Knights will be endowed with more "spirit" than their Wheeling counterpart, as they'll be dressed in "Fear the Knight: Conquer Cancer" shirts during their warm-up.
These "Conquer Cancer" t-shirts were available for purchase from Monday – Friday in the commons, and with only $10, students and staff could contribute to cancer research by the American Cancer Society, along with receiving a stylish purple shirt.
Relay for Life Specialist Kerry Butz oversaw the commerce of the shirts, and is also oversees the Relay for Life programs in the Northwest Chicago Suburbs. Butz believes that the consumption of the "Conquer Cancer" will prove to be nothing but beneficial.
"[We're] trying to bring awareness to the community, let them know the event is happening,  [by] engaging them, informing them," Butz said.
Although Wheeling will be participating in the kickoff on Friday, their players will be devoid of "Conquer Cancer" shirts, as, according to Butz, they were unable to sell them at Wheeling.
"Definitely the cooler kids will be wearing [the shirts] on Friday," Butz joked.
Contrarily, Butz was given the ability to sell the "Conquer Cancer" shirts through the accordance of Service Learning Coordinator Dave Jacobson.
For nearly the past eight years, Jacobson has been the coordinator of the Relay for Life program at PHS, so an additional opportunity to raise awareness of the program would be anything but a detriment.
In addition to the basketball game, the kickoff event on Friday will start with a tribute to cancer survivors, involving one of them doing the first tip off of the game, according to Jacobson.
Jacobson also said there will be a variety of raffles during the event. With prizes ranging from a pair of Bulls tickets to a basket of Prospect merchandise.
Although the incentives for participating in the event are a fine reason to, one should not let these incentives to overshadow what exactly the money they spend goes towards.
"Cancer is a really terrible disease," Jacobson said. "It seems to be getting more and more prevalent. Everybody seems to know a family member or a friend who has cancer, survived cancer, or died from cancer."