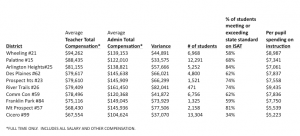 By Jack McDermott
Online Managing Editor
BREAKING NEWS: BOTH SIDES COMPROMISED ON TUESDAY, FEB. 11, AT 12:05 A.M.  SO AS OF RIGHT NOW THERE WILL BE NO STRIKE.
The devastation caused by an exploding volcano can't be denied.  The images of Mount Saint Helens spewing ash and lava are images that stick.  However, volcanoes are not formed overnight, instead building up over long periods of time.
Similarly, the possible strike by District 57 teachers has also been building up for several years, and could have an equally devastating effect on the community of Mount Prospect. But to understand the current crisis, one must first look into the past.
According to District 57 teachers Pam Dolniak and Michelle Walsh, the teachers took their first pay cut as a result of failed referendums, or a vote for higher taxes to fund the operating expenses of District 57 schools, back in 2001.  Then, another pay cut was taken in 2006, as a result of the economic downturn.  The last straw for many of the teachers was when 25 teachers were fired in 2011.
It is important to note that District 57 is a much poorer district compared to surrounding districts, in regards to tax-based income.  They do not receive the benefits from any large commercial business or shopping centers, with a great percentage of tax revenues being pulled from residences.
The teachers have now been without a contract since June of 2013, and called for an impasse in January.  Simply put, the teachers want a salary more comparable to surrounding districts, paid time for professional development and a clearly stated professional evaluation system, but it is hard to determine whether these changes would be affordable.
The average salary in District 57 is sixth from the bottom in the state but scores in the top five percent for state testing (see EDGE).  Board President Karen Nejdl said to the Journal and Topics Newspapers Online, "our base salary currently pulls out the Teacher's Retirement System contribution because it is paid for by the district.  What we want to do is make everything easy on the salary schedule, comparing apples to apples with neighboring districts and shift that cost to teachers so we are more comparable to districts 21, 23, and 25."
The Mount Prospect Education Association (MPEA), the teachers' union, is asking for a two year plan with an eight percent increase in salary the first year, followed by another four percent increase in salary the second year.  Meanwhile, the Board of Education is offering a four percent increase in salary over four years, while also removing an eight percent annual payment to the teacher's retirement fund.  (For both sides full proposals, visit District 57's website and MPEA's website)
These proposals are the result of a series of meetings between both parties for the last 11 months, with a federal mediator joining the discussions in November. However, the MPEA does not feel much progress has been made and is losing hope that a strike can be avoided while both sides continue to try their hardest to come to an agreement.
The public has also done their part in voicing their opinions to try and speed up the outcome.  District 57 parent and 10 year member of the D57 Education Foundation Jeanne Doughty has been very vocal supporting the teachers position.
"I have long appreciated [the teachers'] diligent work and all of their personal funds that they use in their classrooms," Doughty said.  "I've known how dedicated they are, not just to my kids, but to all the kids in the district."
Doughty has voiced her opinions during a board meeting, on Facebook, and has written letters to board members encouraging a quick end to the problems.  The main problem, according to Doughty, is that the teachers don't feel they are valued, but not only with regards to money.
"It has to do with consideration and time management," Doughty said.  "It's clear the administration does not value them and that is a terrible thing to feel."
The MPEA, in addition to asking their supporters to send mail to the board members, telling them how they feel about the ongoing negotiations, have been picketing and providing information at the train station and library, letting the public know how they feel.
District 57 teacher and spokesperson for the MPEA  Carolyn Story has been participating in the informational picketing and wants the public to know what is going on, describing her job as standing between the negotiating teams and the press, making sure that correct information gets passed on to the media.
However, if a strike does occur, teachers will be spending much more time walking around Mount Prospect picketing because they won't be attending schools.
Both sides are trying to do the best by the students and are preparing to try and affect students as little as possible during the strike.
"We have promised that we would give lead time to the families of the community so that they would have time to find other arrangements for their children before going on strike," Story said.
The Board has also released that accommodations will be put in place for students to keep them busy and safe during regular school hours during the strike so that parents will not have to pay for emergency daycare or stay home from work.
The first day the strike could occur would be Feb. 13, but the Board and the MPEA have planned more meetings  before then on Feb. 9, 10, and 11.
No one wants a strike to occur, but the differences in opinions between the two parties may be too great to overcome.
In addition to the links posted on this page, other pages with useful information include…
Coverage on dailyherald.com
District 57 Parent FAQ
the MPEA facebook page