Teens find fame on social media
By Diana Leane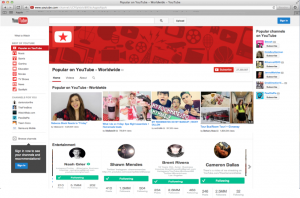 Staff Writer
Fifty eight days.  That's around how long it takes to count to five million.  Fifty eight days is also how long it would take to count all of Nash Grier's 5.5 million followers on Vine.
Nash Grier may be only 16 but he is already famous.  Grier achieved his fame by posting funny six second videos onto his Vine account when he was bored in the summer.  Many of his popular vines feature his four-year-old sister, Skylynn, and kittens.  One of Grier's earlier vines that made a lot of people notice him consisted of him and his sister singing a mini duet to Miley Cyrus's "Wrecking Ball".
From there his following base took off.  Grier has received many opportunities from this experience including the chance to travel across the country with other famous viners on a tour called MAGCON (meet-and-greet convention tour).
He is only one of many teens making it big on social media.  With teenagers growing up in the technological generation, almost every high schooler can be found with a social networking account.  After seeing success stories like Grier's, many teens are also trying to make it big.
While Prospect may not have any students with millions of followers, freshman Mia Philippas has over a thousand twitter followers and almost 3,000 instagram followers.  Philippas said the secret to success is to post happy things.
Philippas posts pictures of her boyfriend, Florida, and summer–all also things that she loves.  Philippas has been lucky to not notice any hate on her accounts and has experienced a couple of perks from her online popularity.
"I don't think I've [noticed] any hate because I block it out," said Philippas.  "I'm sure people make jokes and say their opinion even if it's not positive.  It's not worth my time."
Philippas has had people use social media (mainly her youtube account) to reach out to her for gigs.  Her first singing gig was at Radio Disney and she has since received even bigger offers.  Her most recent and memorable offer was a chance to sing at the Hard Rock Cafe Chicago.  Her current manager also found her singing through her youtube channel.
Despite the positive feedback Philippas has fortunately received, the dream to be famous online can come at a price.  The popular social networkers receive a lot of negativity and pressure to succeed.
Most people at Prospect have a look of disgust on their face when they hear Rebecca Black's song "Friday".  Black was only an eighth grader when it was posted, and at the time she had no idea what a ride she was in for.  Now the video has accumulated over 64,752,000 views.
Unfortunately, most people were not a fan of the video.  The video now has 1,297,839 dislikes and only 341,035 likes.  Black's video receives comments like "This song is, no question, terrible… her voice sounds like a teenager who hasn't hit puberty and chopped his balls off".
Another youtuber who reached online fame while in high school is 18 year-old Meredith Foster.  Foster has 2,078,237 subscribers.  Though she doesn't receive much hate, she still receives rude comments from viewers.
Foster's most popular video was "How to get Taylor Swift curls without heat" and it accumulated 5,466,963 views.  While most comments on this video were positive, she also received comments like "I watched the first part of your video and you STILL haven't started so I got bored and I'm not even watching the rest of it".
When students see teenagers just like them receiving over five million views on a video, they feel pressure to be popular online, too.  However, this kind of pressure can lead to negative things like self doubt and low self esteem.
Prospect junior Willy Moore doesn't feel pressured to be popular online, but he has a simple piece of advice for those who do.
"Try and ignore it," said Moore.  "Don't spend a lot of time on [the internet]. Just check it a couple times a day."
Meredith Foster (Youtube account)- http://www.youtube.com/channel/UC2LOY_zd1ZAc1kZPyzoqhMQ
Rebecca Black (Youtube account)- http://www.youtube.com/channel/UCGPI7zCpQYpPhDLdOAmpAww
Nash Grier (Vine account)- https://vine.co/griernash