Page to speak at the International Society for Education on iPads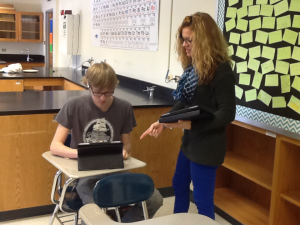 By Grace Berry
Staff Writer
Physics teacher Katie Page was reading emails on her couch when she jumped up to talk to her husband. She had just received an email that had congratulated her for a proposal acceptance about technology in education.
She submitted the proposal to the International Society for Education, a foundation whose goal is to find new ways to engage and connect with learners through technology. Principal Michelle Dowling had talked to Page specifically about this conference because of the new technology like iPads in the building.
Page then looked into the ISTE conference and proposal opportunities. She had been working on her proposal on and off for two months about 1:1 iPad program, one iPad for each student, and the effects iPads have on the classroom.
This year, the ISTE conference will be held in Atlanta from June 28 to July 1. According to Page, there was a long application process online, and she had to describe why people would pay to hear her presentation. Her proposal was part of the 10 percent that got chosen.
"I'm a little nervous but definitely excited [to speak at the conference]," Page said.
Math and Science Division Head Keith Bellof believes Page will give a positive impact to Prospect's image by presenting at the ISTE conference.
"[Presenting at national and international conferences] gets the positive word out on Prospect and how great we are," Bellof said.
This is the first time Page is speaking at the ISTE conference, but she was also chosen to speak at the American Association of Physics conference, and she talks often in front of PHS staff about the effects of technology in the classroom.
This is Page's first year at Prospect, but third working with iPads as Page worked with iPads at Rolling Meadows. Even before iPads, she tried to incorporate technology into the classroom by having students turn in some assignments online. She also had her students complete web activities on a website called Phet. It provides links to websites with interactive activities in different fields of science.
Page believes iPads have made huge, positive changes in her classroom. Her class doesn't use a scrap of paper outside of test taking, and the iPads have allowed Page to experiment with flipped classroom, a system where the students watch a video of the lesson at home and practice their skills in class. She has also found new ways to quiz and present materials to her students.
Page uses apps like Socrative Student and NearPod to make class more interactive as well as getting a better understanding of how well her students understand the material.
"It's easier for me to get a handle on what my kids know in an instant," Page said.
Junior Cindy Tomy is in Page's 5th period physics class and believes the iPads have increased her motivation in class. She also thinks Page's acceptance into the conference is exciting. She explained that although Page's classes didn't help her with the proposal, the class frequently gives Page feedback on the iPads and how they are working.
"Just being in the classroom with kids, it just really makes me happy," Page said. "I have a great job, and I'm lucky to be able to do this every day."
Apps that Physics teacher Katie Page uses frequently in her class:
Socrative Student: Provides an easy way for teachers to ask students questions. It can help a teacher understand how many of his or her students understand material and their opinions on certain topics.
NearPod: An interactive slideshow app. Teachers can ask students questions, watch videos, and use polls.
Schoology: Helps teachers give students materials like worksheets and articles.It also provides a place for students to submit assignments, participate in discussions, and take online tests and quizzes.
iTunes U: Stores materials such as links, articles, and worksheets.
iBooks: Lets students read textbooks and novels.