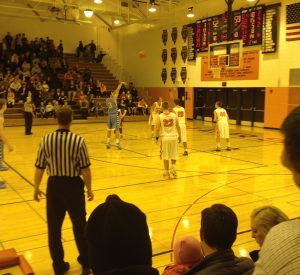 By Devin Prasad
Executive Sports Editor
On Sunday, March 9, senior Bobby Frasco made the commitment to play basketball at the University at Buffalo.  Frasco became the first Prospect basketball player since 2001 to receive a Division 1 scholarship.
For Frasco, the decision was a relief, as he had been looking at different schools since earlier in his junior year.
After visiting the school this past weekend, Frasco knew it was the place for him to continue his basketball career.
"I felt like I was at home," Frasco said. "The coaches and the administration were all welcoming, and it just felt like a really comfortable place for me to live my next four years."
Buffalo finished the 13-14 season with an overall record of 19-10 and won the MAC East conference title.  The team lost in the MAC quarterfinals.  For Frasco, the success of the team was something that really drew him to the school over other contenders on his list.
In his time at Prospect, Frasco feels he learned a lot that will help him in college. The main lesson being a Knight taught him was to have a strong work ethic and always play with your all.
Looking forward, Buffalo expects big things from Frasco, including shooting 75% from the field.  He believes the hard work ethic he got from playing at Prospect will help him practice and get to the level that Buffalo wants him.
Frasco knows he will never forget his four years playing in Prospect's program.
"Every year our team was so cohesive," Frasco said. "It's just a family basically."