District art show displays student talent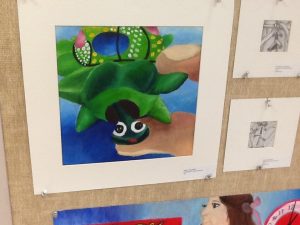 By Ivanka Northrop
Features Editor
As people walked in hearing the sounds of jazz music and smelling pizza, students' art from across the district hung on display.
The D214 spring art fair, which took place this past Saturday at Forest View Education Center, had a wide variety of art types including photography, ink drawings, oil paintings, metal pieces, tempera paintings, and much more.
Barbara Shaffer, an art teacher at Prospect, finds the art show beneficial for students because, it not only gives them a chance to display some of their work, but also to see what kids from other high schools have done.
"There's such a wide variety of work, and everybody worked so hard," Shaffer said. "It's really nice to see it all pull together for the end of the year."
The art fair has been going on forever: since the district was in existence. Most of the art in the fair took the students about 3-5 weeks to do.
A newer addition to the art fair is the Silent Art Auction. The auction is for faculty artwork and raises money for one scholarship for a district 214 art student.
Prospect art student, sophomore Abby Younger, was most proud of her turtle painting. The oil painting took her about a month to do, and she mixed the colors and expanded part of her painting so that it looked like it was zoomed in.
Younger likes to express herself through art.
"I like how you can express [yourself] in different ways, what you're feeling, or a different part of showing what you enjoy, and everyone's [art] is different, so it's unique to yourself," Younger said.