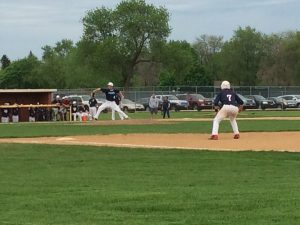 By Shannon Smith
Executive In-Depth Editor 
The baseball team took on Conant Monday, May 19. The team played a close game and came out on top with a score of 3-2. The win against Conant keeps the Knights in the running for the conference championship, but the title is dependent on the success of the Elk Grove team in their next two games.
The Knights began the game with a lead, scoring two runs in the first inning by juniors Pat Donohue and Michael Piotrowski. Senior Mike Smith pitched the first five innings, allowing two runs to be scored.
Junior Danny Devereux came in to close the game and did not allow Conant to score anymore runs.
"I thought the pitching was outstanding today," head coach Ross Giusti said. "You know Mike Smith did a great job of getting out of some tough situations, and Danny Devereux came in relief, and did a really nice job. That's been his role all year, and he's really stepped up and given us a boost in relief."
Going into the bottom of the 7th, the score remained 2-2. With junior Tyler Damasky on first, senior Tommy Flahaven was able to advance Damasky to third base while Flahaven made it to first. Then on a wild pitch Damasky stole home and the Knights won on a walk off.
"I think they knew what was at stake," Giusti said. "And you have to give [Conant's] pitcher credit too. Their kid did a real nice job of throwing strikes, and getting ahead in the count and we stepped up when we had to, and that's how baseball works. You can't really predict how things are going to workout unless you make an effort to execute."
Looking ahead to the playoffs, the Knights first game will be May 21, and Giusti is ready for it to begin.
"I think our team is excited," Giusti said. "I think we know what we're capable of, and the positive thing is we know we still haven't played our best baseball yet. We're looking to put all phases of the game together, and I think this team is confident."