Girls' basketball begins season, secures first victory
By Beth Clifford
Online Managing Editor
The girls' basketball team started off their season Wednesday night with a victory at York Community High School. The 2014-2015 team stepped onto the court to compete against York, who is hosting a Thanksgiving tournament that will continue into next week. As defending champions of the annual tournament, the Knights aim to learn from the mistakes made during this game and continue the victories throughout the week.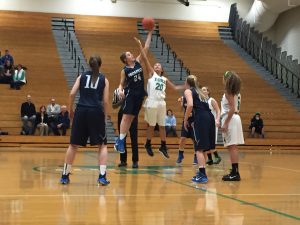 The first half of the game included many turnovers but also many foul calls on both sides of the court. Senior Catherine Sherwood (23 points) dominated the first few minutes of the game with powerful drives, putting her on the line a total of three times in the first quarter. In regards to foul calls, both teams were in the bonus with 6:42 left in the half.
In the midst of consecutive turnovers and few controlled possessions, junior Brenda Kendziera (12 points) lit up for the Knights, scoring eight points in the second quarter. Coach Ashley Graham was very happy to see that kind of play from players like Kendziera.
"A lot of kids that didn't see a lot of playing time last year were on the court for the majority of tonight's game," Graham said. "I think they stepped up wonderfully, and they showed that they want to handle the ball."
The first half ended with a buzzer shot by Kendziera, making the score 22-16.
Kovatchis drove in the ball aggressively for York at the very beginning of the second half, and Viola and Backman made crucial shots in the final minutes of the third quarter. The three senior leaders allowed York to draw within three by the end of the third quarter.
The Knights were picked back up by Sherwood, who took no mercy on the Lady Dukes. Her momentum was stopped short when both her and other senior Taylor Will (8 points) fouled out within 90 seconds of each other. Senior Hannah Grott was also in foul trouble.
"[The large number of fouls] obviously put a lot more pressure on the five out on the court because, I mean, Catherine and Taylor give us confidence on the court," Grott said. "It was tough playing without them, but we just had to push through and support each other."
Grott and Kendziera made sure the five on the court stayed calm in a tight-game situation and handled the ball smartly. After missing a few free throws but then preventing a shot on York's next possession, the Knights won the game 57-52.
Sherwood was frustrated with some of the calls, but in the end she was glad to have a deep bench to secure the victory.
"The girls that stepped in really had our backs," Sherwood said. "We have a lot of talent, and it was nice to see the whole bench get in today and see what everyone can do."
The Knights left York's gym Wednesday night knowing what they have to work on for future success. As Grott pointed out, defensive boxing out, unwanted second chances, and missed free throws were low points of the game, but Coach Graham is ready to improve "one game at a time."
"Overall, we pulled out the win," junior guard Nikki Matters (10 points) said. "For our first game, that's the goal. Obviously there is always things to improve on, but it's a start, and we'll just keep building on it."
Matters, who helped lead the team in the close fourth quarter, was happy with how the girls kept the ball moving against York's zone defense. She is one of six juniors on the 2014-2015 varsity squad, which also consists of one sophomore and one freshman. The team is led by its four senior captains: Catherine Sherwood, Taylor Will, Hannah Grott, and Katie Olson.
Freshman Emily Frasco was nervous transitioning from eighth grade basketball to varsity high school, but she attributes the leadership of this team towards her eased tension.
"[The senior leaders] have been great," Frasco said after reflecting on her performance in the game. "It's a new journey, and I love them all."
According to Sherwood, senior year brings on many emotions for the four players that have been in the program all of high school.
"As captains, we want to leave a lasting mark on the underclassmen," Sherwood said. "We want them to remember us not only as good basketball players but as good teammates, good friends, good leaders, and people to look up to."
Coach Graham is confident that this kind of leadership and relationship-building will result in success for the rest of the season.
"We have great senior leadership, and that goes without saying," said Graham. "In terms of going forward, I am extremely confident in this team not only because we have so many players with game experience, but they just have a great chemistry within them. They all want it for each other, they are all here for the same reason, and we will accomplish a lot."