Lady Knights defend York title, head into conference
By Beth Clifford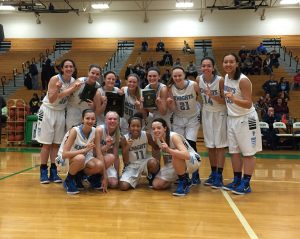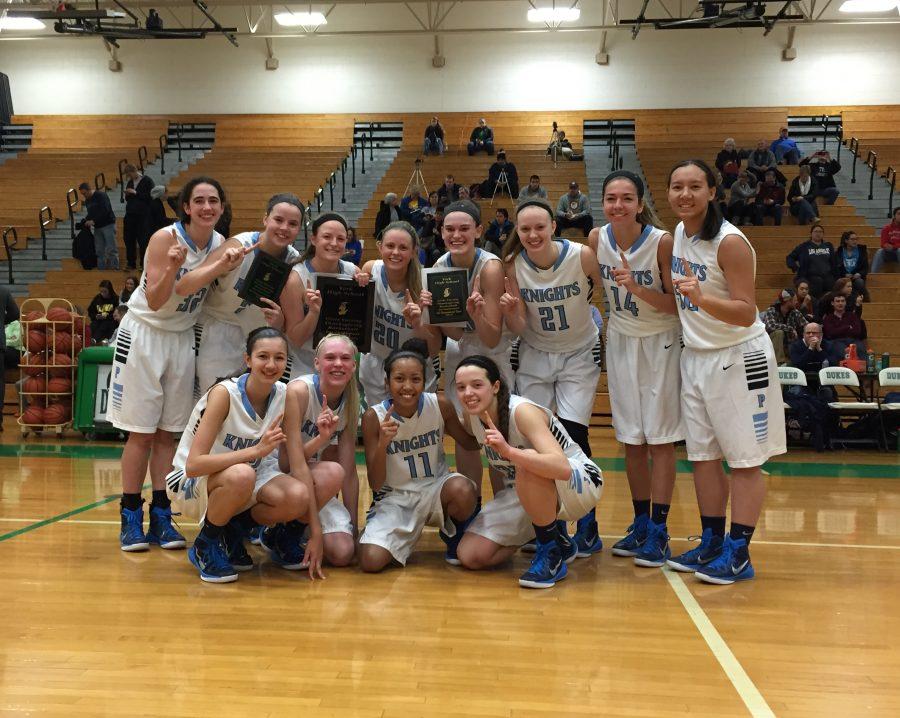 Online Managing Editor
Girls' basketball finished out the first week of their season Wednesday with an undefeated 4-0 record and first place finish at York Community High School's Thanksgiving Tournament.
The tournament, which Prospect won last year, was in a round robin format, so the girls did not have to win a championship game on Wednesday. They did, however, have to win their game against Wheaton North to secure their defending title.
The majority of the game was dominated by the Knights, who used their speed and controlled ball movement to run the Falcons out of the gym early. In the second quarter, the Knights outscored the Falcons 18-4.
"Out of any team I've had, this is probably the fastest both on the offensive and defensive end," varsity head coach Ashley Graham said. "We can get out and guard people, and then as well get out and run."
Indeed, the Knights showed off that skill well on Wednesday. Having their five-man Catherine Sherwood being a state-competing track star also did not go unlooked, as most other post players she goes up against are slower. Steal after steal and fastbreak after fastbreak, Prospect finished the game 70-45 against Wheaton North.
Even though it looked like the Knights had the victory in the bag, the whole game the girls kept running as fast as they could down the floor.
"We always talk about running hard for your teammates," Graham said. "It's not just about you, but getting down the floor and helping everybody out as well is important."
After the game, seniors Catherine Sherwood (17 points) and Taylor Will (29 points) were named All-Tournament players. As a guard and post duo, both were honored to receive the recognition after hard-fought games throughout the entire week.

"We're a team, and we play as a team," Sherwood said. "But it is nice to get that individual kind of recognition also."
The Lady Knights will transition from this tournament to head into conference play, which starts on Monday after Thanksgiving Break. Prospect will take on Schaumburg for a crossover game before competing against top rival Hersey this coming Friday.
"One of the goals was to win the York Thanksgiving Tournament, so we are glad we can check that off our list," Coach Graham said. "But we want to do really well in conference. Every night we need to come ready to play knowing we are going to see some great competition because the East is pretty stacked."
The team looks to work on finishing better and not playing down to their competition as they begin their conference season, but Coach Graham was happy to see how the girls have already improved defensively throughout the course of the York Tournament.
"Now that we have four games under our belt, our team is starting to learn how to play team defense better as well as individual defense," Graham said. "We talk a lot about having pride in both of those, and I think we had that today."
Overall, Graham is proud of how the girls started out the season with a tournament title.
"It's great to go into conference with a lot of confidence," Graham said. "We had some sickness that we had to overcome, and I think some kids have definitely stepped up, and that is great to see so early."
Sherwood hopes that, after this win, a message was also sent to Prospect's competitors.
"Our conference and everyone else can see that we are 4-0 York Champions, and they should be scared of Prospect because of that," Sherwood said. "We are going to be a good team."
Excitement is in the air specifically regarding the upcoming Hersey game on Friday. In a Sun Times and High School Cube preseason projection, Prospect was ranked 23rd, while Hersey was ranked 14th. Senior Taylor Will stated that this came as a surprise, since Prospect beat Hersey twice last year in the conference season.
"We are taking that personal," Will said. "We have decided that we are going to prove the paper wrong."