By Ryan Molini
Sports Editor 
Before the game at Jean Walker Fieldhouse Thursday night, Dec. 11 senior guard Taylor Will (5 points, 7 rebounds) was honored for breaking the all-time leading scorer record last Friday, Dec. 5. Head coach Ashley Graham presented Will with a game ball at center court before the game even tipped off.
After a standing ovation and a few camera flashes, the game was underway.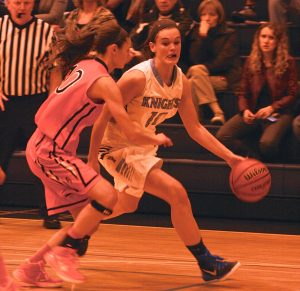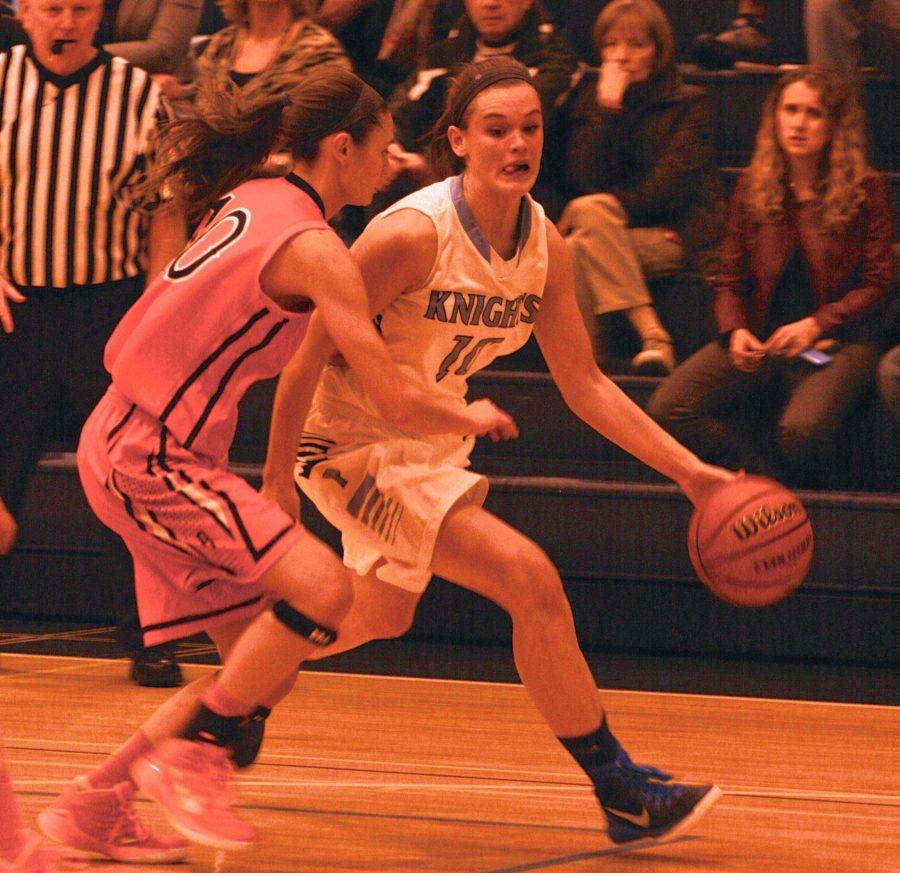 Both the Knights (7-0) and the Buffalo Grove Bison (8-1) started the game off struggling offensively. With the Knights not scoring until sophomore point guard Haley Will's (8 points, 5 rebounds) basketball at 2:48 left in the first quarter, they still managed to end the first quarter tied with the Bison 5-5.
"I just said the game's going to come down to us," Graham, who felt the game started off slow, said.
"We were all playing super sloppy and it was just a weird game," Taylor said. "We were both playing really good defense."
The slow start at the beginning of the game led to an explosive second half for both the Knights and Bison.  However, the Knights' endurance gave them the edge in the fourth quarter as they came out victorious 45-32.
With the Bison hitting four threes in the third quarter, they decided to stick around a bit longer as the game went into it's final quarter with the Knights leading 31-24.
"[Coach told us] to calm down on offense [and] execute," Haley said. "Then on defense [to keep] doing what we were doing because we held them to 10 points at halftime."
Senior forward Catherine Sherwood led the Knights with a game high 12 points despite battling foul trouble the entire game.
"You could tell when she got a foul she was extremely upset with herself," Graham said. "But every time she checked back into that game, she battled. I was really proud of the maturity she showed."
Returning as a coach to Jean Walker field house was Prospect math teacher and Buffalo Grove assistant varsity coach, Martha Kelly, who teaches Haley in class and coached Taylor her freshman year.

"It's a great opportunity," Kelly said. "You have two undefeated teams against each other. What could be better than that?"
BG senior forward Maddie Callahan's team leading nine points were not enough for the Bison as all nine came beyond the arc in the second half.
The Knights head into the weekend without a blemish on their record as they handed the the Bison their first loss of the season.  The Bison defeated the Knights last year in overtime at the class 4A regional championship.
"I'm just really proud of the kids. They executed and followed the game plan perfectly," Graham said. "They were really locked in both mentally and physically."


Video by Peter Fusilero, Sports Editor.