Will, Lady Knights reach new milestones
By Beth Clifford
Online Managing Editor
After scouting reports, built up pressure and a tight game where every possession counted, the buzzer sounded on Tuesday night naming the Prospect Knights 13-0 Dundee Crown Tournament champions and diminishing New Trier's undefeated status to a record of 14-1.
For the first time in its program's history, Prospect took the DC title over the defending champions of the highly acclaimed tournament, leaving the players, fans, and coaches speechless.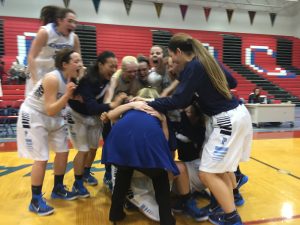 "I can't even put it in words," senior Catherine Sherwood (15 pts, 4 rebounds, 3 steals) said. "It's just so many milestones. It's beating New Trier, who is undefeated and top-ranked in the state. It's the first time an MSL East team has won this tournament. It's the first time Prospect has won this tournament, and it's known as one of the best tournaments in the state. It's a huge honor. I think it really proves to everyone that we should be feared."
The win did not come easy for the Knights. New Trier played a high 3-2 trap zone defense that Prospect had trouble working around in the first half. Trailing for the entirety of the game up until the final minutes, the Lady Knights had to fight against a deficit.
"The biggest thing that I want to say about my kids is they just believed," varsity head coach Ashley Graham said. "We have grown up a lot, and the bottom line is they believed they could win."
Although the girls have beaten the unbeaten earlier in the season, the pressure that amassed for top-ranked New Trier made the tight game situation tougher to overcome.
"As a team we don't get super rattled, and we handle [any deficit] pretty well," senior Taylor Will (21 pts, 5 rebounds, 2 steals) said. "We stayed sound as a team, and we played really good defense and that defense fueled our offense."
New Trier's 6'3'' post Jeannie Boehn also gave Prospect difficulty, finishing the game with 20 points for the Trevians. Using her height to dominate the paint, the highly-recruited junior was a challenge for Sherwood to guard.
"I don't know if you can ever stop a Jeannie Boehn," Graham said. "What we tried to do is obviously front her and then sandwich her on the back side, and then hope we could close out quick on their shooters because they are a complete basketball team. Cat's a very athletic post player, and she did a great job doing that."
The crowd gasped, however, in the final minutes of the second quarter when Sherwood fell to the ground. Clearly in pain, she was helped off of the court by her teammates, who at that moment had to decide who was going to stop Boehn in Sherwood's absence.
The Knights finished out the half with a reverse layup from Brenda Kendziera that made the score 25-20 Trevians. At the end of halftime, Sherwood was seen exiting the locker room with a much stronger walk, and early into the third quarter she reentered the game. She decided to play through the pain.
"The main thing was it's my senior year," Sherwood said. "It's my last year. I can't hold back."
And hold back she didn't. Sherwood, along with the rest of the Prospect team, came back onto the floor for the second half and were able to work through New Trier's tight defense much more effectively.
Taylor Will had a three-point play within 13 seconds of the half, Haley Will (10 pts, 3 steals) drained two threes throughout the half, and Hannah Grott (3 pts, 1 steal) swished a three on the side to ignite a Prospect comeback and takeover that ended the game at 51-46.
"I think a lot of people ranked us pretty low," Taylor Will reflected after the game. "They weren't expecting us to come out as strong as we've come out, and I think that we are definitely proving people wrong. That's what we're here to do."
Besides helping the Knights secure their first ever DC title, Taylor also made a little Prospect history for herself on Tuesday. After scoring 21 points in the game, Taylor is officially the all-time leading scorer for Prospect High School with 1,501 career points, breaking former Prospect and current University of Illinois guard Mike Latulip's record at 1,484.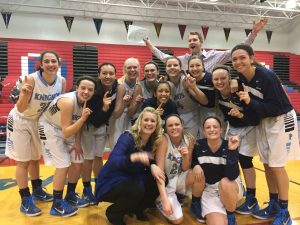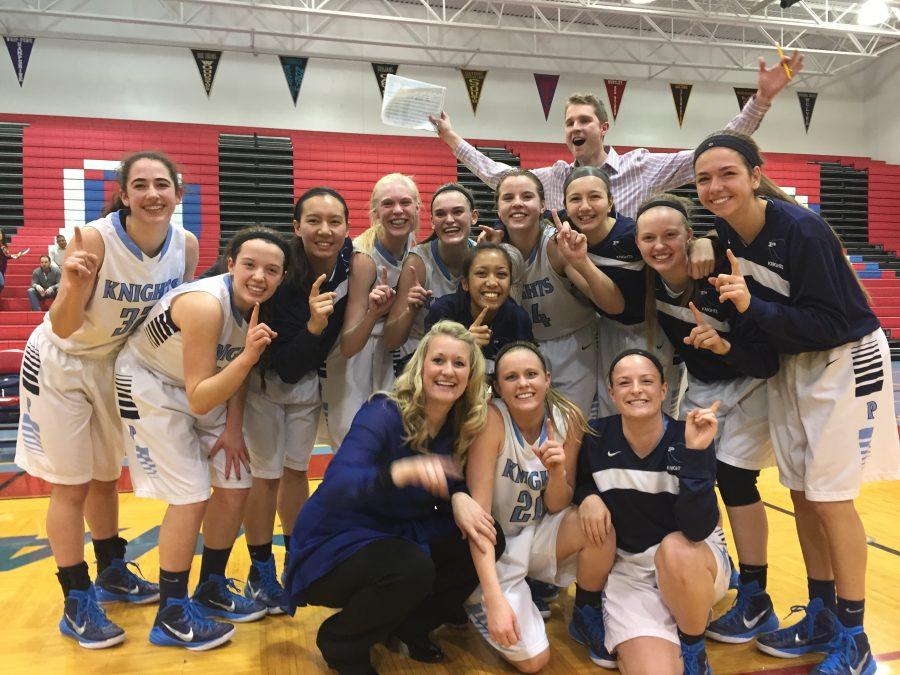 Taylor received a congratulatory text from Latulip after the game, but her humble-self was focused on the team's victory rather than her own.
The energy of this win will be next tested at Fremd High School on January 6th, a big match-up for the end of the holiday season.
"[This win is] a statement for the girls that play and the girls that don't play that we are a good basketball team, and we can make things happen," Grott said. "There is so much more in store for us, and it's just unreal. And being part of it is even more unreal."