Knights claim MSL East, set to rematch Fremd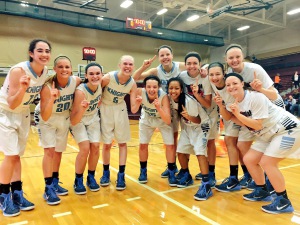 By Beth Clifford
Online Managing Editor
District 214's centennial classic brought in alumni, visual exhibits, vocal performances, and, most dramatically, an MSL East Champion.
After a nail-biting game where during a majority of possessions Hersey seemed in line for victory, on Saturday morning the Prospect Lady Knights pulled through in the final minutes to become 10-0 MSL East Champions. Emotions exploded following the final buzzer, giving Prospect fans in the stands a happy sight to see.

"It's so unreal," senior Catherine Sherwood (13 pts, 5 rebounds) said after the game. "We haven't won the East since 2004. We've never been undefeated in conference. I don't even know the last time we've gotten a chance to win the entire MSL. It's just so awesome.
Hersey, in the lead for 27:23 of the game, attained their highest lead (12 pts) in the middle of the 2nd quarter, while Prospect reached their highest (3 pts) with just 44 seconds remaining.
The first half was a struggle for the Knights. Not clicking in their ball movement or defensive strategy, Hersey was running up the score with back-door cuts and quick possessions. At the end of the first half, the score read 27-18 Hersey.
"We took a couple of deep breaths [at half time]," head coach Ashley Graham said. "I talked about some defensive adjustments we had to make, gave them a little pep talk, and we just went out there and shot a little bit."
Whatever Graham said to the girls in that locker room fueled a different kind of energy. The Knights came onto the floor in the second half looking much more in control and organized, especially defensively. They ended the third with 36 points- double of what they scored in the entire first half.
"I think we sort of just banded together and decided we weren't going to let this slip away," senior Taylor Will (18 pts, 5 rebounds) said. "We worked so hard for this all season, and this was our game."
Sophomore Haley Will (8 pts, 3 rebounds) mentioned that the key to the second half was staying composed when handling the ball.
"We had to take our time and make good passes," she said. "Execute."
After cleaning up their mistakes and playing a much better second half, the 2014-2015 Lady Knights were named Prospect's first MSL East Champions in eleven years.
Although they were going into the game 9-0 in conference, Prospect had to beat Hersey for a second time in order to reign as champions. Hersey had only lost once in conference once before Saturday morning, and that loss came from Prospect.
Both leaders in conference had beaten every other opponent by more than fifteen points, so the next tiebreaker would have come down to the score on Saturday morning. Hersey would have had to win by five points in order to win the East, since the Lady Knights beat them by four earlier in the season.
Throughout the game, the potential for this tiebreaker to occur seemed very possible, as the Knights deeply trailed.
"Historically, [Hersey versus Prospect games] are great games," Graham said. "But just the comeback they made in the second half was outstanding. It really is a special group. They deserve this more than any team I've ever been around. To do what they did in a conference that is so tough and go 10-0 is so special …. It means so much. Coach Schoenbeck and I are just along for the ride."
The dramatic ending caused emotional sentiment that was most visible among the team members.
"It's just amazing," T. Will said. "It's an awesome feeling, especially senior year. It's just a great way to go out."
Sherwood echoed Will's statement, refocusing any sad feelings regarding senior year.
"Everyone's like, 'Oh, is it sad that it's your last conference game?' And I mean I guess it's over," Sherwood said. "But there isn't a more perfect way to end it."
The Prospect Knights' (24-1) next challenge is a rematch against the one opponent that took away their perfect record: Fremd. The MSL Title game will be held at 7:30 in Prospect's Jean Walker Field House on Wednesday night.
With highly-recruited senior guard Haley Gorecki and junior forward Bryana Hopkins, Fremd forces the Knights to plan on having a couple days of tough practice in order to prepare.
Excitement among the student body is already building up for the big matchup on Wednesday, and Jean Walker is sure to be packed with many fans who wish to witness the claiming of the 2014-2015 MSL trophy.