'Catch-22,' a classic novel that shouldn't be passed up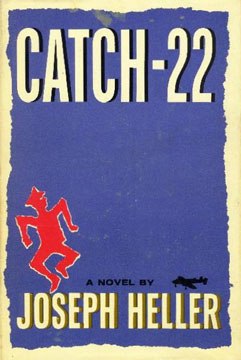 By Elai Kobayashi-Solomon
Opinion Editor
"It was love at first sight."
I'll admit, I was pretty surprised to read these words when I opened up to the first page of Joseph Heller's "Catch-22."
It's a line that seems fitting for a cheesy rom-com or a modern adaptation of Romeo and Juliet, not an iconic war novel that one World War 2 veteran called "the most accurate book ever written about the military."
But "Catch-22" doesn't follow the traditional formula of a war novel. There are no epic, heart-stopping battles. There are no clever military tactics and strategies. It doesn't even have a brave, strong main character who overcomes his fear to become a national hero; the bravest thing that protagonist Yossarian does is lie to the hospital doctors that he has a liver problem.
In fact, most of the novel is an absurdist satire filled with ridiculous characters and seemingly trivial events. "Catch-22" follows the story of Yossarian, an American bombardier stationed in the fictional island of Pianosa, Italy during World War II. Although he's a captain in the Air Force and the lead bombardier in his squadron, the last thing Yossarian wants to is to get in his plane, preferring to fake sickness and injury and sleep soundly in the military hospital.
It's not as though Yossarian opposes the war because of his unbending moral compass or his refusal to kill others. Rather, Yossarian is scared; scared of fighting, scared of getting hurt, scared of dying. Convinced that every mission would be his last, he did everything from poisoning the military's food supply to pretending that his plane was malfunctioning to avoid going on bombing raids. In Yossarian's words, war was when "men went mad and were awarded with medals," and he desperately refuses to succumb to this fate.
Although Yossarian is featured prominently throughout the novel and can be considered the main character, there are a myriad of other supporting characters that Heller describes in hilarious detail. Whether it be the antisocial Major Major Major Major or Chief White Halfoat, who abruptly decides at the beginning of the novel that he was going to die of pneumonia, the secondary characters are, for the most part, incredibly funny and memorable.
These random, quirky characters reflect the plot of "Catch-22" as well. In fact, "Catch-22" does not really have a plot; although it is around 550 pages, the novel does not have a connected storyline but rather consists of various, disjointed flashbacks and random events.
This may sound like the premise for the most random and trivial book ever written. In fact, this is exactly what I initially thought about the book; although there were some outright hilarious moments and characters, it was nothing more than a dark comedy. However, later in the novel, it becomes clear that Heller is making an important statement about war, the military, and organized institutions in general.
The seemingly inconsequential events and ridiculous characters introduced in the first third of the book are revealed to play an important role in the message that Heller is trying to convey throughout the novel. For example, one of Yossarian's friends and comrades is Milo Minderbinder, a mess officer who is initially portrayed as aloof and caring. However, as the novel progresses, it is revealed that Milo ruthlessly chases after profit and even bombs his own men as part of a contract with Germany. Similarly, readers learn that almost all of the characters and events have a deeper meaning behind them; through their absurdity, they actually criticize and comment on how ridiculous war and government organizations are.
However, while the crazy plotline and disjointed commentary may not appeal to everyone, "Catch-22" is a hilarious, iconic novel with an impactful, depressing message that you shouldn't pass up.