Renaud becomes new track coach, looks to continue success left by Mirandola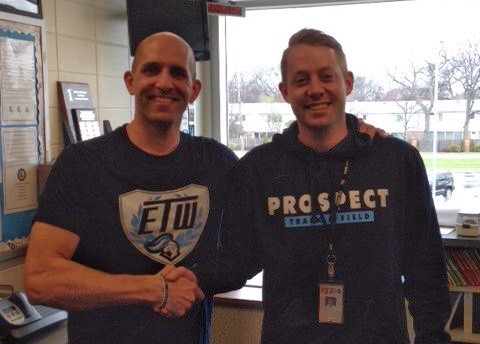 By Wyatt Dojutrek, online sports editor
The Prospect boys' varsity track team will have a new face running the program next year.
Current Hersey boys' varsity cross country coach and assistant boys' track and field coach Jay Renaud will be the new boys' track and field coach for Prospect.
Renaud will replace current track head coach Frank Mirandola as he leaves to become the new Assistant Principal for student activities.
Renaud graduated from Prospect in 2005 where he was a state champion on the 3,200 meter relay in 2004 and state runner-up in 2005. He continued to run track and cross country at the University of Iowa, where he graduated from in 2009.
Renaud currently teaches four classes at Prospect: three World History classes and a US History class. He teaches one class at Hersey, but will transition to teaching all of his classes at Prospect next year. Next year will also be the last year that Renaud will coach the Hersey boys' cross country team.
Renaud believes that Mirandola has done a great job with the program in his short tenure.
"He brought a sense of teamwork to this program," Renaud said. "He is also a terrific leader and great motivator."
Renaud thinks he brings a lot of experience to the job as he has been a head coach at Hersey for the past five seasons. Coming into the program, Renaud thinks that the biggest strength of this team is their depth.
With the recent changes in the head coach position for track, Renaud is ready to settle in at Prospect after switching schools every day.
"Track and Field is an extremely important part of my life," Renaud said. "I think I will be here for a long time.