By Riley Langefeld, copy editor
Student athletes have been facing a remarkable problem with extreme weather through the beginning of fall sports season. Prospect teams were not allowed to practice outdoors after school on Sept. 6 and 7 because of a dangerously high heat index. Although there are hot days each fall, Head Athletic Trainer Katie Cottin says that this year has been particularly rough.
The district has a policy for sports practices in extreme weather, including heat, cold and thunderstorms. Head Athletic Trainer Katie Cottin monitors weather conditions every day through the year. On days when she knows that it will be particularly hot and humid, she goes out to take readings on the temperature, wind chill, humidity, heat index, barometric pressure and wind using a device called a Kestral.
Cottin takes readings on the turf, the grass field and the tennis courts. If the reading is anywhere between 96 and 100 degrees Fahrenheit in one of these places, practices there must be limited to 90 minutes with mandated water breaks and pad restrictions for football. If the heat index is over 100 degrees, practice must be cancelled.
To avoid the heat, teams will typically change their practices to an earlier time before school, practice later in the day, practice indoors or cancel practice altogether.
According to senior Scott Gumowski, a member of the varsity boys' soccer team, these changes can be frustrating for athletes. However, he understands the reasoning behind them.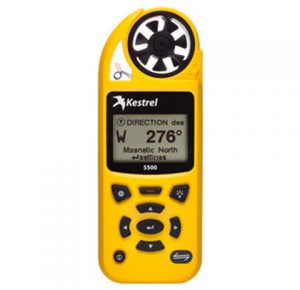 "It's dangerous to be out there for as long as we are in that heat," said Gumowski. "I feel like the trainers have our best interests in mind."
This extreme weather policy has been in place since 2014. There is currently a new policy in the process of being written because the IHSA is changing regulations for playoff games. The trainers want the school teams to be used to the regulations when the IHSA regulations become relevant later in the season.
These precautions are put in place largely to protect athletes from heat stroke and heat exhaustion. Heat stroke sets in when the body's internal temperature reaches 104 degrees or higher. At this point, the condition becomes life-threatening, and organs can start to shut down. Cottin says that Prospect's athletes have to be particularly careful of these risks.
"It's especially tough in the Midwest because we have such fluctuations [in weather]," Cottin said. "Our athletes' bodies aren't acclimated to the heat."
Fortunately, no athlete at Prospect has experienced heat stroke, but according to Cottin, a number of players have gone through heat exhaustion, a less severe but still serious affliction. If athletes are experiencing heat exhaustion, the trainers give them water and put ice packs on their bodies to cool down.
The trainers also have protocols in place for heat stroke. Ice cold baths are always standing ready on hot days when there is a significant risk.
During the winter, extreme temperatures aren't as much of an issue because most teams practice inside and the temperature rarely drops below zero. The only teams consistently affected by the cold are the boys' and girls' track teams in their winter running. These teams generally practice indoors during extreme cold.
Despite the inconvenience that these regulations may bring up, Cottin says that they are in place for the purpose of the athletes' well-being.
"It's something that we can't control," Cottin said. "We're just looking out for the athlete's best interests. We don't want them at a higher risk of an injury or illness happening, which is why we're pretty straightforward on where our policy stands."