By Amanda Stickels, executive features editor
As senior Jillian Hennig and the rest of the cheer team were performing at sectionals, she could see a stunt fall, which cheer coach Jackie Gronski said is "unheard of" at sectionals. Every team there has worked to perfection and made sure that mistakes were not even their vocabulary.
However, Hennig tried to "stay in the moment" and still give it her all for the last 30 seconds of the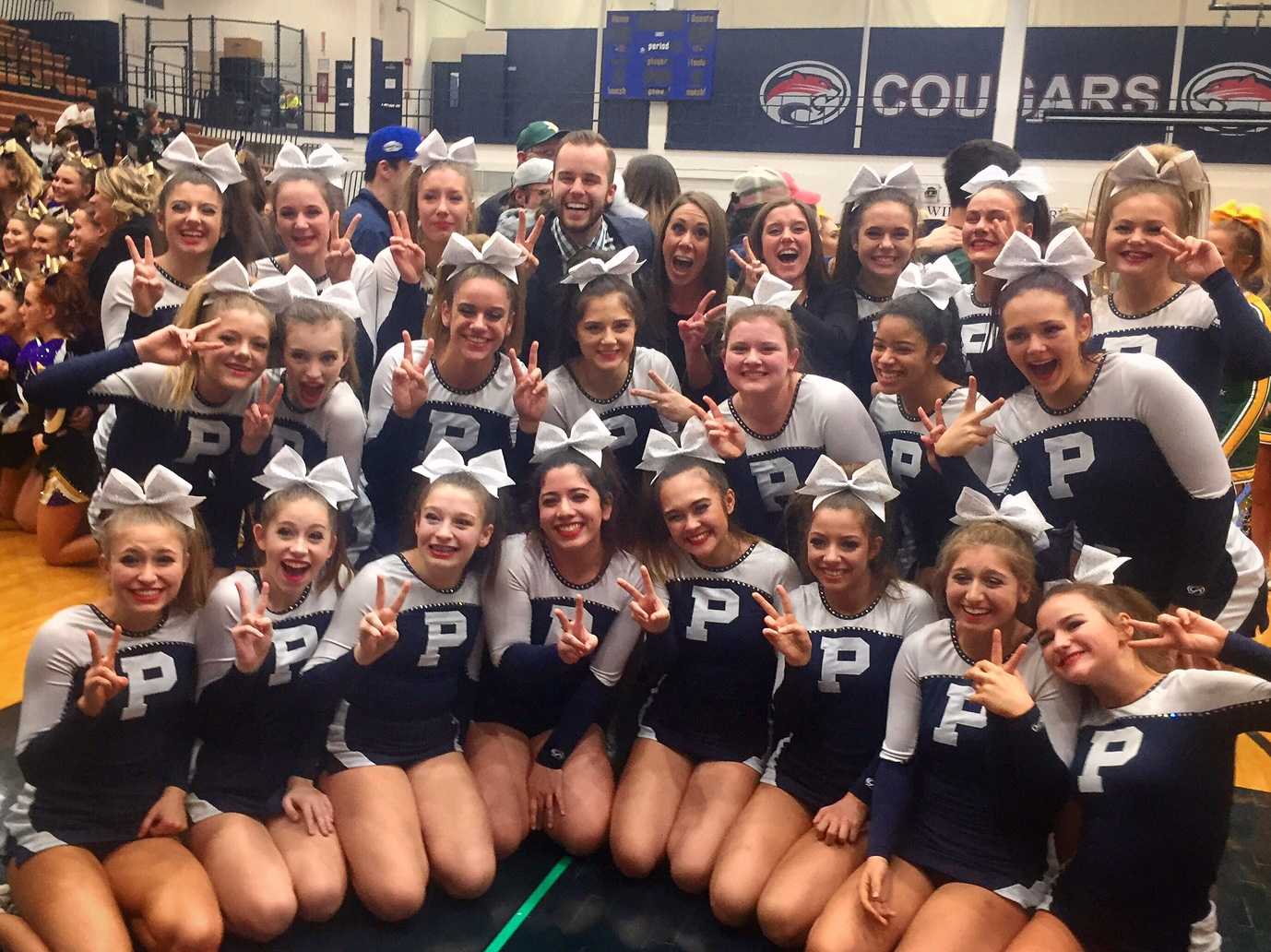 routine. Afterward, the cheer team watched the other schools perform as their nerves rose.
Finally, it came time for the results to be announced. A lot was on the line since the top five teams would qualify for state. They weren't expecting much because of the fall but were hoping for the best. Tensions were high, but they were gladly surprised when the announcer said that the second place trophy went to Prospect.
"We went in kind of sitting in the circle waiting for the results like it wasn't going to happen, so we said 'okay, maybe fifth or fourth,'" Gronski said. "They announced fifth place… Third [place] was the team I thought would've gotten second, and after they announced third place, I'm looking around like 'wait what teams are left now?' Then, they said us for second, and every single one of us screamed. We were crying. It was an embarrassingly loud reaction."
Hennig was so happy that she accidentally punched her best friend in the face. Gronski said that the team was able to get second place despite the fall since they had a higher raw score, the highest possible score based on difficulty of the routine.
Winning second place in sectionals was not only a huge achievement because that meant the team could compete in state for the second year in a row, but also because this year's team is so young.
Hennig was only one of five upperclassmen on the team. Gronski stated that they lost a lot of seniors from the team with a total of ten girls leaving the program, which is almost half the team.
Having so many underclassmen on the team meant working and teaching more basic skills. However, after much practice and working on skills even outside of practice, they got the hang of it.
This kind of hard work and persistence is what allowed them to achieve their goal of qualifying for  state.
"By now, all of our bodies are drained, so it kind of kills us. We're all injured and just in pain, but it's all worth it. It's so worth it just to go to state," Hennig said.
Looking forward, the team's goal for state is to hit a clean routine with no mistakes. Hennig believes this is possible as they have tried to change their mentality from state last year. She says that last year they were very nervous, but the team is working on looking at it as "just another competition."
The team is extremely excited for state as Hennig described it as the best weekend of your life multiplied by two. They are also ready to compete and show off their full potential.
"We're not at our peak yet. We're still going uphill," Hennig said.