DeBoeuf named new football coach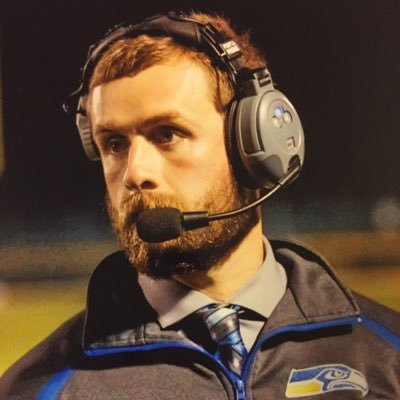 By Jack Ankony, Executive Sports Editor

A new, energetic face will be leading the Prospect Football program into George Gattas Memorial Stadium on Friday nights next fall. On Feb. 23, Dan DeBoeuf, the former head coach at Johnsburg High School was named the head coach of Prospect.
"I am definitely very excited to get started," DeBoeuf said. "Anytime you start something new you have so many great ideas that you want to get started right away."
Deboeuf, 31, boasts a 31-5 record at Johnsburg over the past three seasons and was named the 2016 Northwest Herald Football Coach of the Year. The Johnsburg Skyhawks went 13-1 and were the 2016 state runners-up in Class 4A. Most recently, Johnsburg finished 10-1 in the 2017 season as a member of the Kishwaukee River Conference.
"To leave my current position, I felt like it had to be a really special situation," DeBoeuf said. "When you look at Prospect and the history of the program and the history of how great of a school it is especially academically as well as athletically, it was a place where I could really see myself spending the rest of my career."
DeBoeuf thinks his energy as a coach, as well as in the classroom, is what set him apart from other coaches during the interview process.
"The main message will be that we are going to build this program back to the early 2000s when state championships were being won," DeBoeuf said. "We are going to celebrate those previous successes and celebrate all the success that the program has had in the past, but we are also going to put our own spin on it and do things a little bit new and exciting with our new twists."
DeBoeuf plans on implementing an up-tempo, no huddle, fast and exciting offense.
"That offense is something that people are going to be really excited about," DeBoeuf said. "We are going to be aggressive in all facets, offense, special teams, and defense."
The Prospect football program will be built on four pillars, according to Deboeuf. Relationships, toughness, competitiveness and work ethic. First, DeBoeuf hopes to build a relationship driven program where the players are doing things for each other, as well as people in the community.
The second pillar, toughness, will be shown through the way the team will play.
"We are also going to be really tough," DeBoeuf said. "Whatever we do we know we are going to have a chip on our shoulder and we are going to battle through adversity and tough times.
Competitiveness, the third pillar, will be present in every aspect of life.
"We are going to learn to compete in everything that we do," DeBoeuf said. "Whether that is on Friday nights, studying for a test, or how we are tying our shoes in the morning when we are leaving for our day, we are going to do the best we can."
The fourth pillar, work ethic, will help the Prospect football program be threat in the state playoffs, a main goal for DeBoeuf, as Prospect has not made the playoffs since 2012.
"We are going to learn how to work really hard and chase down those dreams of a state championship that we have," DeBoeuf said.
The football program will have a team meeting on Feb. 26 with players and parents to discuss the upcoming season and DeBoeuf's philosophies as a coach.
"We have to get back to that goal and belief [of making the playoffs]," DeBoeuf said. "That starts with how we are going to attack each day, and that is going to start with the first team meeting that we have and how we train for the rest of this offseason for the next couple years."
For an in-depth look at head coach Dan DeBoeuf, grab a copy of the newest edition of The Prospector, which comes out on March 2.