Girls' swim and dive takes fourth place at MSL
By Molly Mueller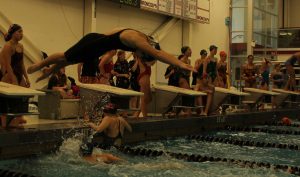 Sports Editor
The girls' varsity swim and dive team competed in the MSL conference meet on Saturday, Nov. 2, at Barrington High School, placing fourth out of 12 teams. The team was in fifth place after the 200 free relay (about 3/4 through the meet), but coach Alfonso Lopez was confident the team would pull ahead.
"I was feeling good [with fifth], but I also knew that the back end of our meets have always been the strongest – the breaststroke, the backstroke and the 400 free relay – so I felt like we would finish the way we were seeded or even a little bit better."
According to Lopez, while many of the swimmers had good races, the two swimmers that stood out the most were junior Rachel Rozow and sophomore Betsy Rozow.
"[They] swam out of their minds, in terms of times," Lopez said. "[They] really just [stepped] up and dropped a huge amount of time and got us a bunch of points that we really needed and probably didn't know that we were going to need."
Rachel swam in the 200 yard medley relay, 200 yard individual medley, 200 yard free relay and the 100 yard breaststroke, while her sister, Betsy, swam in the 200 yard medley relay, 50 yard free, 100 yard backstroke and the 400 yard free relay.
"Personally, I did pretty well," Rachel said. "I got a couple best times and pretty close to best times, so this was definitely one of the best meets in my life."
Rachel was happy with how she swam at the meet and is excited to attend the sectional meet in two weeks at Barrington High School.
"I'm really looking forward to everything going into sectionals," Rachel said. "The relays are going to drop so much time, I'm super excited for [my individual medley] and I just love the breaststroke and I know that Macey Berkley, who also swims the 200 yard individual medley and 100 yard breaststroke] is going to do very well besides me."
Lopez is getting the team ready by vamping up the practices for the next week.
"We got to build them up," Lopez said. "Next week, we are going to go hard, we're gonna get them nice and tired and then we're going to bring it back down. Tech suits, rubdowns, everything. We're ready to go."
Individual Finishes:
Diving: Junior Dana Liva – Conference champion, 409.40, sophomore Kendall Neumann – 18th, 102.00

200 yard medley relay: Sophomore Betsy Rozow, junior Macey Berkley, freshman Samantha Berkley, junior Rachel Rozow – 3rd, 1:57.82

200 yard freestyle: Junior Ellie McGough – 9th, 2:08.32, freshman Samantha Berkley – 11th, 2:10.43

200 yard individual medley: Junior Rachel Rozow – 7th, 2:19.89, junior Macey Berkley – 10th, 2:26.01

50 yard freestyle: Sophomore Betsy Rozow – 6th, 25.16, freshman Gracie Dix – 14th, 26.75

100 yard butterfly: Freshman Samantha Berkley – 12th, 1:07.35, junior Niki Neumann – 1:08.48

100 yard freestyle: Freshman Gracie Dix – 9th, 58.48, junior Ellie McGough – 12th, 58.96

500 yard freestyle: Freshman Natalia Dmitruk – 12th, 5:53.37, junior Michelle Vuong, 13th, 5:55.56

200 yard freestyle relay: Senior Lily Alvey, freshman Samantha Berkley, freshman Gracie Dix, junior Rachel Rozow – 4th, 1:44.58

100 yard backstroke: Sophomore Betsy Rozow – 4th, 1:01.21, junior Niki Neumann – 9th, 1:07.06

100 yard breaststroke: Junior Rachel Rozow – 4th, 1:11.85, junior Macey Berkley – 10th, 1:15.27

400 yard freestyle relay: Junior Niki Neumann, freshman Gracie Dix, junior Ellie McGough, sophomore Betsy Rozow – 5th, 3:53.36
Team Finishes:
Fremd – 299

Barrington – 264

Palatine – 154

Prospect – 143

Conant – 115

Hersey – 94

Schaumburg – 82

Hoffman Estates – 64

Wheeling – 58

Elk Grove – 48

Buffalo Grove – 36

Rolling Meadows – 34