Change in pace, boys track season begins
By Peter Fusilero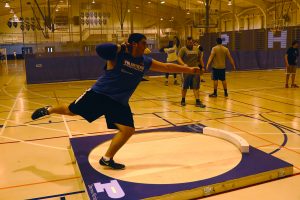 Sports Editor
The fastest time for hurdles in Prospect history. A full ride to the University of Illinois. A medal that read state champion.
David Kendziera was the face of the 2013 track season, but what separated Kendziera from the rest was not a physical trait, but a mental one.
"[Kendziera] had that hunger," Kamedula said. "Right now we don't have that [state champion] mentality, but it's still early."
This state championship mindset is what the 2014 boys' track team will need heading into their outdoor season. This confidence will be built up through off-season work and indoor track meets.
"The off-season has been going well," senior Eric Garmoe said. "Most of the track guys are in the weight lifting class, and that gives Kamedula the opportunity to see everybody and what they're doing."
Garmoe sees the indoor track meets as benchmark tests.
"It's really good to see where guys stand," Garmoe said. "It's good to see all the work we've been putting into the off-season translate onto the actual track. It gives coaches ideas about who will be on what teams and who will be starting."
This off-season has had some considerable changes than in year's past, specifically for the throwers and runners.
According to senior Justin Phillips, the shot put and discus throwers have implemented a circuit workout focusing on cardio and muscle building. The focus is to slim down the throwers so they can have more endurance to the last the whole season.
Phillips explained that "peaking" is a make or break to a thrower's season.
"It's been a lot of light throwing," Philipps said. "Last season it was heavy intensive on throwing a lot in the early stages. It's the reason why we would peak early and go down. This year we want a slow rise up and peak at sectionals."
There are two different styles of workouts for sprinters and distance runners, according to Garmoe, who participates in both.
"Distance runners definitely go hard. Running eight miles a day is typically no big deal," Garmoe said. "Sprinters are more focused on the lifting aspect, more power [and] shorter duration of practices and focusing on endurance."
Injuries can definitely take a toll for any average track runner, but Garmoe has to be very cautious.
Assistant Coach Mike Stokes has Garmoe running shorter distances at a faster pace then go to the weight room and bike in order to keep the pounding on his legs at a minimum.
In order to help prevent injurie, the boys and girls track programs have officially added Prospect graduate Dr. Nathan Porcher to the coaching staff.
Porcher, who ran for Kamedula when he was still in high school, now is a chiropractor at Foundation Sport and Spine Center in Arlington Heights.
"It's always nice to get different ideas and people with different visions. It's always good to change a little bit," Kamedula said.
Garmoe sees the addition of Porcher to be very beneficial thus far.
"He helps activate muscles," Garmoe said. "It's pre-race therapy and he knows a lot about muscle usage. It's pretty cool."
With new training remedies this off-season, the boys have multiple goals they would like to achieve.
"We want to win the East, compete to be in the top three at conference and after that just get as many guys to state as possible," Kamedula said.
Garmoe understand that losing guys like Kendziera and an all-state distance runner in Quentin Shaffer will be tough, but it's a challenge this year's team can handle.
"We all looked to those two for leadership, but I don't think this year our leadership has fallen off," Garmoe said. "Those guys were talented as hell, but we have young guys coming through to fill those holes. We should be all right."