Boys' water polo beats Elk Grove on senior night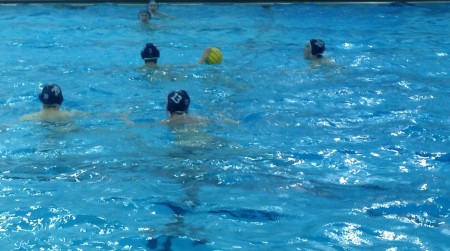 By Molly Mueller
Executive Sports Editor
The boys' water polo team said goodbye to seniors Jack Cooney, Cristian DeCorah, Nathanael Ginnodo, Carter Mau and Cam Mauer April 24 during their senior night game against Elk Grove.
"We kind of really wanted to win this because it is our last home game," junior Tyler Culliton said. "We got to make this really important for the seniors since it's senior night. We really just wanted to get them in and play as much as we could and play our hardest."
The Knights won 16-9 to improve their record to 8-3 with goals by Mauer (4), Culliton (4), junior Sam Gabriel (3), sophomore Isaac Ginnodo (2), Mau (1), Nathanael (1) and junior George Schober (1).
Gabriel also led the team with with four steals while Mau, Mauer and Schober each had three. Nathanael had two steals and Isaac, Culliton and DeCorah had one apiece.
"The team played really well," head coach Dan Gentry said. "Sometimes they underestimate some of the other teams in our division. Elk Grove seems to bring it to us every time we play them but our kids stepped up and obviously the score shows that they played pretty well."
The Knights were focusing on getting fast breaks during the game to have an advantage over the other team.
"We are a very fast swimming team and that's kind of where we run and gun," Gentry said. "They did a good job early on of getting ahead. We missed a few opportunities that we should have had but other than that, they were swimming pretty well."
With sectionals the next step for the team, Gentry has a plan for the guys to be successful.
"To not underestimate anyone, to play their hardest at all times and to just keep fighting."