Girls', boys' water polo represented well at All-Conference awards
By Molly Mueller
Executive Online Sports Editor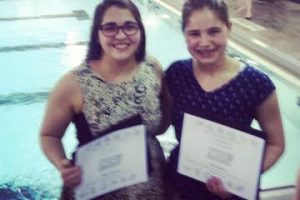 Prospect's girls' and boys' water polo received four All-Conference player awards earlier this week during the conference games May 7 and 8.
Senior Mary Schiavone and junior Niki Neumann won the award for the girls team while senior Nathanael Ginnodo and senior Cam Mauer won for the boys.
Both Schiavone and Mauer won for the second year in a row.
"I felt really humbled because making it the second year means that all the coaches in the conference think that my hard work has been paying off," Schiavone said. "That means a lot to me."
For the first time winners, both Neumann and Ginnodo were excited to receive the award.
"It meant kind of a lot because I didn't win [All-Conference] for swimming so it was kind of nice," Ginnodo said.
Neumann was especially proud to be named All-Conference as a junior.
"When [head coach Natalie] Rasor told me, I was really surprised because there are a lot of good people on our team," Neumann said. "I was really excited because [getting All-Conference] is something I've wanted to do since I came here as a freshman and I got it as a junior."
Rasor and boys head coach Dan Gentry believe the players chosen deserved the award because of the hard work and dedication they all put into the program.
"All the coaches vote on the best kid so they have obviously done what they've needed to do to get the attention of the other teams and coaches," Gentry said.
Rasor also mentioned that Schiavone and Neumann were the "two players most deserving of it".
"I think that [being named All-Conference]  shows that these were the two players who were our biggest assets this year," Rasor said. "They were the most integral to our scoring and our winning games."