Knights drop MSL East opener to Huskies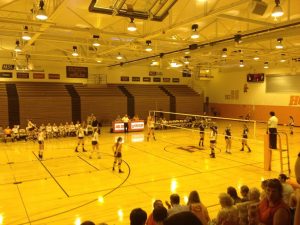 By Ryan Molini
Sports Editor
The girls' volleyball team headed into their Mid-Suburban East opener Thursday night at John Hersey High School with one thing on their mind, a positive attitude.
"We have a young team this year," junior setter Michelle Haaning (12 assists, 4 aces)  said. "Positive energy was key today and [so was] picking each other up."
Even with the excess of positive energy the Knights dropped two straight games 25-20 and then 25-17 in the second.
The Huskies jumped out to early-game leads in both games by leading 6-1 in the first and 5-0 in the second game.
Hersey having won the MSL East the past 11 years, head coach Gabrielle Lovin felt the team had to come into the matchup thinking they were just as good as the Huskies.
"It's always somebody's opportunity to knock them off the top," Lovin said. "And that's what we came in as. We're equals."
Even with the opening East loss, Lovin still sees a lot of positives coming out of the match.  Confidence played a big role for the young team.
"We knew we had to come out confident," Haaning said. "With our hits and with each other."
With two more conference games next week, the Knights are looking to bounce back as they take on Buffalo Grove and Rolling Meadows.
"We have got to go out there, be positive, be energetic, and work together," Lovin said.