Girls' golf wins regionals
By Molly Mueller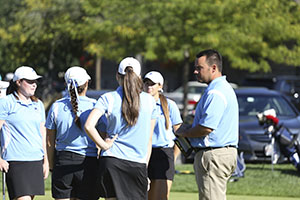 Sports Editor
Prospect's girls' golf started its post-season with a bang. The team played the IHSA Class AA regional match Oct. 9 at their home course, the Mount Prospect Golf Course, and came out as regional champions over the ten other teams. Prospect finished with a team score of 299, 19 strokes ahead of second place Buffalo Grove (318).
"We played great," varsity coach Jim Hamann said. "Anytime you break 300 is a fantastic team score so I'm very pleased with all the girls today."
Leading the Knights was senior Ally Scaccia. Scaccia shot a 70, one over her school record of a 69. Scaccia was awarded individual regional champion, closely beating out Fremd senior Jennifer Kim who finished with a 71.
"I didn't come here trying to win, but everything fell into place," Scaccia said. "I came to play with the team, but it's always nice pulling out a victory."
Also scoring for the Knights were seniors Kiley Walsh (72), Emma Menich (78) and Noreen Caporusso (79).
The Knights will have another chance to carry on the tradition next Monday, Oct. 14, at the sectional meet at Buffalo Grove Golf Club.
Team Finishes:
Prospect – (299)

Buffalo Grove – (318)

Fremd – (320)

Stevenson – (350)

Vernon Hills – (368)

Hersey – (370)

St. Viator – (373)

Lake Zurich – (411)

Palatine – (448)
* Wauconda and Wheeling did not have enough athletes to count as a team score.
Prospect Individual Finishes:
Ally Scaccia – Regional Champion (70)

Kiley Walsh – 3rd (72)

Emma Menich – 7th (78)

Noreen Caporusso – 8th (79)

Kacie O'Donnell – (83)

Bridget Brassil – (101)