Girls' volleyball overcomes all odds
By Alec Kozakowski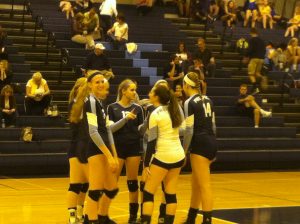 Staff Writer
After starting game one on a 10-1 run, the varsity girls' volleyball team never looked back, winning a match against Wheeling in two games on Tuesday night.
Going into the match, the Knights were without their captain, Carly Thompson, as a result of an illness. However, they were able to overcome missing Thompson, and took game one 25-11. The team started strong, kept high energy and maintained a "positive attitude," according to junior Rachel Grippo.
Leading the Knights with four kills in game one was senior Josie Sajbel. Other key players were Grippo, with two aces, and Allie Skowron with a strong overall performance.
Game two was much closer, however, as the Knights pulled away winning 25-18. Wheeling never gave up, but Prospect was able to keep the lead with recurring scoring runs. Sophomore Nikki Matters closed the game with three straight kills.
"We're a really good winning team, [but] we're a bad losing team," head coach Mike Riedy said. "So if we can come out early and get a lead, we play really good volleyball. It's when we start to fall into a deficit when we have all types of problems, but tonight was perfect for us because we led the whole match."