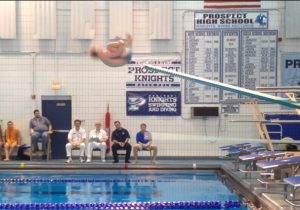 By Molly Mueller
Sports Editor
Wheeling High School. The home pool of both Wheeling and Prospect's swim teams. On Friday, the two teams swam against each other and it became the site of ultimate bragging rights.
Prospect narrowly beat out Wheeling 95-91 to earn the bragging rights for the next year along with closing in on the MSL East title.
"If we didn't win this, it comes down to possibly tying for the MSL East," head coach Alfonso Lopez said. "[The win] also means a lot because they're a team that we swim and share the pool with. We know them. We see them everyday."
Sophomore Jack Gabriel agrees that this meet means a lot to the team.
"This means that we can go into Hersey and hopefully win the MSL East," Gabriel said. "I feel that we have a good shot of winning that.This also means that we're the best [team] that comes out of Wheeling pool."
According to Lopez, it was swimmers like Gabriel and junior Apurva Belsare who put the team over the top.
"I think it was a lot of our number three swimmers," Lopez said. "Belsare in the 100 back, that was huge. He beat two of their swimmers. Gabriel in the 100 breast also beat two of their swimmers right at the end. Those points are the difference in the end."
Lopez has the same plan for the Knights for the last MSL East meet against the also undefeated Hersey next Thursday (1/30/14).
"We're going to bring a really deep lineup," Lopez said. "We're going to swim fast. We're going to go for the win."