Girls' water polo takes down Schaumburg, looks towards Maine East tourney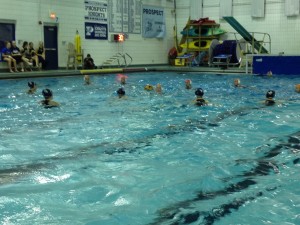 By Molly Mueller
Executive Online Sports Editor
The Lady Knights water polo team beat the Schaumburg Saxons 17-3 yesterday evening with junior goalie Lauren Broz earning 19 saves.
The Knights started off strong with senior captain Danielle McCallister earning three of the four goals scored for the Knights in the first quarter. Broz blocked seven shots during the seven minutes and only let in one to make it 4-1.
Senior Niki Neumann led the Knights during the second quarter with three goals, coming back from five attempts in the first. Sophomore Gracie Dix scored her second goal of the night and McCallister earned a fourth. Neumann also earned two steals to help out Broz, who finished the first half with 12 blocks and two allowed goals.
Prospect started off the second half 9-2 and quickly brought the lead up to 13-2 by the end of the quarter with goals from freshman Ann Fulk, sophomore Megan Pfeiffer and senior Michelle Vuong. Dix scored her third goal of the night to end the third while Broz didn't allow a goal and made two saves.
The lead continued to build in the fourth with senior Ellie McGough earning her first goal of the night. Neumann and Dix each made their fourth goal of the game while game high scorer McCallister made her fifth. Broz completed another five saves and let in one to give the Knights a 17-3 victory over the Saxons.
The team credited their win to their overall defense during the game.
"I think defense was really key," McCallister said. "We had some good defense with arms up and then they were trying to drive a lot and get kickouts, but I think we combated that really well."
According to Broz, the game went exactly as planned.
"I feel like it was really good," Broz said. "We worked on… our weaknesses that we really focused on during practice. We really communicated better than past games than we have during the season."
The team will be heading to Maine East High School Saturday for an all day tournament where they will face MSL West rivals Palatine. The girls haven't beat the Pirates since 2013 at the St. Viator Sea Lion Shootout and they are looking for a chance to prove themselves.