Boy's golf triumphs over Main South
By Lauren Miller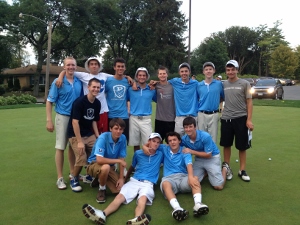 Multimedia Editor
Boys' varsity golf continue to dominate with a score of 151 strokes over Maine South's 161 strokes on September, 11. Senior Josh Johnson lead the way with an even par of 36, followed by junior Johnny Bruno with a 38, senior Reid Dahlstrom with a 39, and senior Brian Hennelly rounding out the team with a 40.
Dahlstrom thinks that the meet gave a great example of the team's depth because the Knights did not golf most of their starters, and were still able to shoot a good score. Dahlstrom attributes this to the team starting to, "settle into the season."
Johnson believes that an overall improvement in the teams consistency, along with the teams overall support for each other (see picture) is yet another aspect of the Knights' game that has aided in their success so far.
The knights current success directs them perfectly along their path to achieve their team goals. Some team goals for sophomore Joey Dellanina include winning conference and placing for sectionals.
Both Dahlstrom and Johnson believe that the Knights' putting and short game needs to improve in order to achieve these goals, but the Knights are ready to work.
"We need to be prepared for every meet and give ourselves the best chance at winning.. you just have to play your best and let everything else go," Johnson said.