Fall Out Boy releases new ablum, redefined style, same success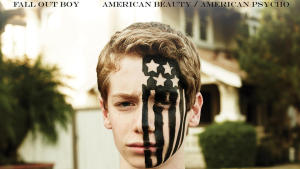 By Cassidy Selep
Visuals Editor
If you are reading this to find a review about how the Fall Out Boys new album is terrible, this is not the place to look. I admit I am a sucker for Fall Out Boy. I will always love Fall Out Boy. This doesn't mean I think everything they do is perfect; they have some flaws.
When I first started listening to Fall Out Boy's new album "American Beauty/American Psycho," I questioned how I survived the hiatus. This album is full of high-energy, head-banging songs that I couldn't live without. Now sit back, relax and enjoy some great music.
Irresistible: This is my favorite song from the album. I know that I am not the only one who digs this song because it made iTunes charts the first day it was released. I could listen to this song on repeat for days on end. Throughout the song, trombones create an anthem-like beat that pulls the entire composition together. The song does a fantastic job exhibiting Patrick Stump's vocals; all the levels of his voice are displayed, from the soft to the rock.
American Beauty/American Psycho: I am going to be honest. The first time I heard this song I was a little hesitant to enjoy it. However, by the end I adored the song. This is the perfect song to be associated with the album. When people think of the new album, they will think of this amazing song. The song brings high energy that everyone will love. Now whenever I need a boost, I play this song, and then I am ready to conquer anything. (Fall Out Boy can do that to you.)
Centuries: This song has been playing on the radio for a while now. It is the hit single for the album. This song exemplifies exactly what Fall Out Boy is and who they are as a band. People can sing along to the song and partake in a little head banging if one chooses to do so. This was the right song to choose as the released single because it pumped everybody up for the upcoming album; I know it pumped me up.
The Kids Aren't Alright: This is another great song that displays Stump's amazing vocals. He shows off a voice that is soft but controlled. It helps tie the entire album together. It is a song that everyone will want to sing along with.
Uma Thurman: This song's composition is too perfect! It has this crime, detective video game feel, and I dig it. It is actually fitting for their reference to Uma Thurman who played a lead role in Pulp Fiction. Even more so, the lyrics refer to the the scene in Pulp Fiction where Uma Thurman and John Travolta are dancing. Overall, this is a fun song that makes me want to dance like Uma Thurman.
Jet Pack Blues: This is Fall Out Boy's attempt at a slow, sappy song, and they pulled it off in terms of still being rock and roll. No worries, Fall Out Boy didn't become John Legend. Honestly, how sappy can a rock band get? The song still carries sadness throughout the lyrics and the composition can bring out some sad head banging. Someone can listen to the song without wanting to cry.
Novocaine: I love the hard rock start to this song. It brings back the composition of Fall Out Boy's previous album, "Save Rock and Roll." This album has been very diverse; this song brings out the hard-core head banging side of rock and roll. Novocaine is a song that is special in the album because it's composition is different in the album yet still fits in, which is one of the great things that Fall Out Boy has achieved.
Fourth of July: My mind goes right to Katy Perry's Fireworks because of the name of this song. Let me tell you something; this is no Katy Perry song. It is far from it. The song starts off strong with Stump's beautiful vocals. This created a romantic sentiment that ties together the composition and lyrics. Songs like this reaffirm my love for Fall Out Boy.
Favorite Record: Fall Out Boy may spin like her favorite records use to, but this is not my favorite song on the album. When I first listened to the song, it came off as borderline pop and techno. It made me question what Fall Out Boy was doing. Somehow, they always make it work. Fall Out Boy is able to change things around but stay true to who they are. This song exemplifies what I love about Fall Out Boy just because they didn't forget themselves, even amongst the change.
 
Immortals: This was the song that was used in the Disney movie Big Hero 6. I was surprised that Fall Out Boy included this song in their album because it is different and originally written for the movie. The song has a more techno underlay to it that makes it different from the majority of the songs. However, Fall Out Boy did a fantastic job bringing out the rock and roll side of the song by incorporating heavy drums to keep the beat.
Twin Skeletons: This song is great because the composition reminds me of songs in Fall Out Boy's album, "From Under the Cork Tree." Even though this song can remind people of the 2005 Fall Out Boy, it shows growth. Of course, Fall Out Boy is no Taylor Swift, switching from country to pop, but they are more than classic rock and roll. Adding this song to the album was perfect because it shows Fall Out Boy's growth and them staying true to their roots.