Girls' tennis looks toward youth to help win the East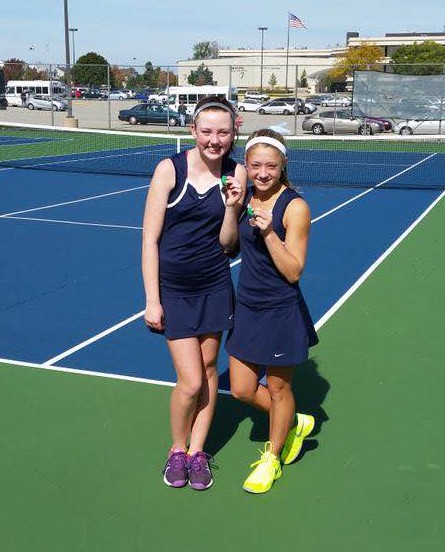 By Wyatt Dojutrek, online sports editor
"Young with varsity experience."
Those are the words girls' varsity tennis head coach Mike McColaugh used to describe his team this season.
Numerous players, like senior doubles player Hannah Haeberle, returns for one more season.
However, the team lost the eight seniors on last year's team, including Haeberle's doubles partner Karina Petrunova.
Even with all the departures, Haeberle is impressed with her new teammates so far.
"I feel like they're strong and really great additions to the team," Haeberle said.
Last season, with six new players the, Knights were second in the MSL East with a 4-1 record and finished fifth overall in the MSL.
The team begins their season with a tough task as they face Maine South. They play the Hawks at their home court on Aug. 23.
According to McColaugh, Maine South has one of the top eight doubles teams in the state. The Hawks also have a state qualifier in singles returning for a fourth season.
"They [Maine South] are going to be really strong at the top of the lineup," McColaugh said.
As the new season begins, McColaugh's goals remain the same: win the MSL East and do as best as they can in the conference tournament.
McColaugh believes a key factor in achieving his goals is how the latter doubles teams play. The doubles matches are especially important for the Knights.
In a tennis meet, a team has seven players that play on the court, three singles players and four doubles players. The team who wins four out of the seven games wins the match.
Even with all of the new faces on the roster this year, McColaugh has lots of confidence in this year's team.
"We are going to have some excellent tennis players, and even if the other school has some really good players, we can win the match because of our depth," McColaugh said.