Boys' track finishes third at Wanner Invite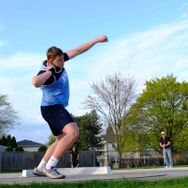 By Wyatt Dojutrek, executive online sports editor 
The Prospect varsity boys' track and field team played host to the Wanner Invite on April 28.
Out of the 24 teams competing at the invite, the Knights took home third place with a score of 128.5.
However, head coach Jay Renaud thinks the team could have made the leap to second place when it was all said and done.
"I think we should have gotten second place," Renaud said. "We only lost to second place by one point, and I think we could have done better."
While the Knights did not win the invite, the team did have several different groups win first place in their events.
The Knights 4×100 relay of seniors Nick Konstantinou, Dante Cecala, Ian Arms and sophomore Tim Zalinski placed first with a time 43.09.
Renaud believes that Arms and Konstantinou for helping prevent Zion-Benton from winning the 4×100.
"These guys were anchoring not only the 4×100 but the 4×200 relays," Renaud said. "Those guys held off a Zion Benton team and almost placed in the top three against Lyons, so they did an outstanding job."
Renaud was extremely excited after the 4×100 win.
"To win the 4×100 relay was extremely thrilling," Renaud said. "I think that relay helped us get a lot more points as a team."
Renaud also credits the throws team of seniors Billy Matzek, Vince Shields and Alex Palczewski for also helping the team gain more points
"I think the three shot put guys did extremely well," Renaud said. "Those guys are, at this point, just meeting their expectations because they have been that good for us."
Renaud also believes that freshman Will Horvath did a nice job filling in for senior Kevin Sherwood in the 400 meter, placing 24th out of 34 sprinters.
"I thought [Horvath] did a really nice job," Renaud said. "I think that at this point in his track career he did the absolute best that he could have done.
As the regular season winds down and the postseason is about to begin, Renaud thinks that this team has a chance to repeat as conference champions in two weeks time.
"Prospect has never repeated as conference champions, which has been a goal of ours since the beginning of the season, and it's not going to be easy, but I think we can do it," Renaud said.