From suburban town to international school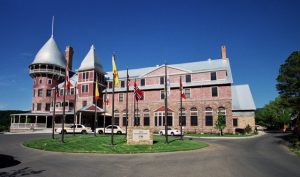 Shreya Thakkar
News Editor
Three days upon arriving at Armand Hammer United World College (UWC), former Prospect student Rohan Sheth traveled on his first wilderness expedition trip – one out of the two required to graduate. At the two-year school, three second-year leaders take 10-first year students to the wilderness.
Students drove to a hiking area eight hours away from UWC's campus in New Mexico, and hike up the mountains, live on their own, set up camp on their own, and make their own food- all without adults or any faculty. Students aren't provided with showers, deodorant or anything else besides themselves and the nature around them for the duration of the two-day trip.
Sheth enjoyed his trip so much, that he plans on going on another 12-day wilderness trip in May of 2014.
"You're away from everyone," Sheth said. "People have told me that this is the best experience of their life. You will never get the opportunity again. How many chances will you get to go and do something like this and it's all paid for? [Plus], you're in such a scenic place, it's pretty phenomenal."
At the end of last school year, Sheth decided to complete his two remaining years of high school at UWC, a highly competitive two-year international school that utilizes an innovative way of teaching and whose goal is to unite different nations and cultures. During all lunch periods on Monday, Dec. 16, Sheth spoke to Prospect students about the opportunities available to them at UWC.
Sheth's presentation especially had an impact on sophomore Dongyoung Kim. Kim had never heard about UWC until Sheth's presentation. However, Kim was so captivated by all the opportunities UWC had to offer, Kim started his application the next day on Tuesday, Dec. 17.
"I realized that this is a really cool opportunity to work with people from all over the world and just truly interact with other cultures and still have a great education at the same time," Kim said.
Many UWC graduates move on to attending some of America's top ranked universities, and according to Sheth, just from the one hundred early decision applicants, whose results came back on Dec. 14, two students got accepted into Stanford University, two into Harvard University, one into Williams College and another into Princeton University.
In late 2007, the Wall Street Journal identified UWC as being in the  world's top 20 schools for its success in preparing students to enter top American universities.
"Generally, going to UWC gives you a little bit more of an edge, which is pretty cool" Sheth said.
In addition to the school's academic excellence, according to Sheth, the school still has a normal social life too. Students still throw parties. They're student run, and have student DJ's too. Next year the student DJ's will be from Kentucky and Kenya.
Along with that, Sheth believes it is an eye-opening experience to learn with people from all around the world.
"Hate to break it to everyone, but you are not the smartest person," Sheth said. "In all seriousness, when I was [at Prospect], I thought of myself as fairly at the top of my class. And that changed drastically when I went to UWC. [You] realize that you are not competing for your job just from people at [Prospect], you are competing for it from people all around the world. And people from around the world are a lot smarter than you think. And that's something I've been forced to recognize by going to UWC – people are really smart, and you just have to realize that."
According to Rakesh Sheth, Rohan's father, he has really seen Rohan learn a lot from the available opportunities at UWC, such as the way Rohan understands different cultures and how to work with people from all around the world. Rakesh believes it was worthwhile for Rohan to go to UWC.
"He has learned so much about how to work with the world and different cultural aspects," Rakesh said. "He has also learned from [the students there], just as they have also learned from him. We are very proud of him and how well he is doing over there."
Rohan recommends UWC to all interested because of his unbelievable experience from his first year attending UWC.
"It's an awesome experience," Sheth said. "I can't even explain how living with kids from around the world, I can only tell it to you. But, it's so awesome. I wish I could describe it in a better way."